Remembering Gauri Lankesh: We shall survive and stomp out communal elements
Journalist Gauri Lankesh was shot dead on September 5
Many labels describe her - Leftist, naxal sympathiser, firebrand, so on and so forth. But she was dear friend for many
The state government has formed SIT to investigate into the murder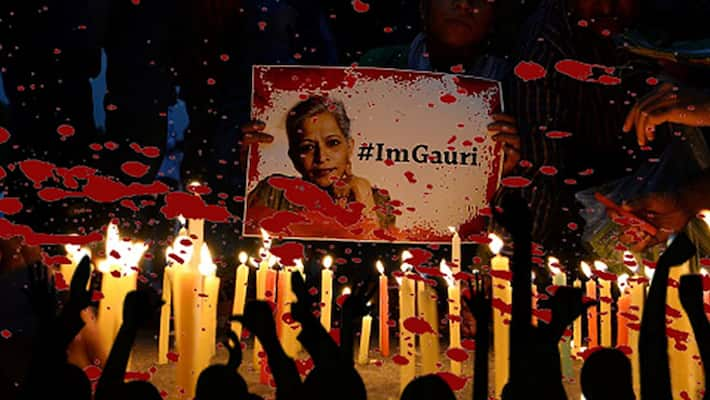 Tributes have been pouring in for the slain journalist Gauri Lankesh who was shot dead by unknown miscreants at her residence, last week, from all over. Her colleagues, contemporaries and even those who have had the slightest opportunity to share their ideas with her have been writing all over. Here, Mysurean and former Outlook Editor R Krishna Prasad remembers his dear friend with touching a tribute.
Another part of the post which caught our attention:
I narrate this anecdote only to illustrate four points that seem to have been subsumed by the welter of words her death—correction: her calculated, coldblooded murder at the altar of her home—has evoked.

One: the stellar battle a small, single woman fought—all on her own and all very silently. 'I Am Gauri' makes it seem like a fairy tale saga of a fiery, fearless journalist overcoming all odds, but it wasn't so, at least not lately.

Two: the self-fulfilling prophecy perpetrated by the fat cats in mainstream media that tabloids are "roll-call", pay-up-or-you-are-damned, extortion rackets of their editors and journalists, lies exposed. 

Three: all "Naxals sympathisers", "peaceniks", "JNU pricks", "radicals" don't have access to bottomless "foreign" funds and don't lap around in luxury. When her end came, the ignition was on in Toyota's cheapest offering in India.

Four: till the very last breath, her fate, especially her financial fate, was tied inextricably with that of the man she fully and properly loathed and despised.

Given her family's longstanding ties with various political worthies in Karnataka, including and especially Karnataka chief minister Siddaramaiah, finding funds must not have been difficult but Gauri's phone calls suggested she didn't go that route.

At the funeral in Bangalore, the CM's media advisor Dinesh Amin Mattoo said he had heard that Gauri had surrendered her last life insurance policy just a few days ago to make ends meet.

At a condolence meeting in Mysore, Swamy Anand who worked with the Lankesh family for 30-odd years said she wrote for English publications only to pay for the Kannada journalism.

Her bank balance, said somebody else, would most likely be in the low thousands.

Be that as it may, the impact of easily the most destructive economic decision in post-Independent history on farmers, weavers, shopkeepers, daily wage workers, etc has been told, re-told---and spun.

The saga of 'Gauri Lankesh Patrike' tells you what a lethal effect it has had on journalism, especially for small newspapers, especially in the languages.

And the accompanying trauma on those who run and work in these enterprises.

And the hollowing out of the democratic discourse.

The only consolation is that even the bastards who pumped the bullets into her couldn't prevent Gauri from enjoying RBI's official stamp on the#DemonetisationDisaster for a full five days.

***

In a roundabout sort of way, and that is probably her lasting contribution to the fraternity, Gauri Lankesh has shone the light on the state of modern Indian journalism.

Looking at the coverage of the protest marches, rallies and meetings, a common reader and viewer must be wondering:

How did the editor of a small, unheard-of, financially strapped Kannada tabloid end up irritating somebody so much that they decided to send her off to her next assignment in the hereafter?

Conversely, how come so many of our large media houses and big publications are happily swimming along with the sharks without the kind of harm that has come to Gauri & 'Patrick'?

And listening to the grandstanding by the great gasbags of Lutyens Delhi's media, online and offline, young reporters must be wondering:

Why aren't we freely covering the kind of stories---of inequality, inequity, injustice, intolerance, corruption, discrimination, communal polarisation etc---that these bozos are extolling about Gauri Lankesh now?

The American journalist David Halberstam said famously that journalism was not about making friends and earning praise, and that if you were looking for it, you must go somewhere else.

As vast sections of the Indian media bury their head in the sand to the leaping flames of competitive communalism and the dragon seeds of hatred and bigotry being sown in our midst, the roles have been reversed. 

It is Gauri who has had to go off somewhere else.
Last Updated Mar 31, 2018, 6:55 PM IST