Why did India wait until Nirbhaya's death to amend its laws?
Nirbhaya's bloody and brutal death triggered widespread horror.
This horror eventually led to an amendment to the Juvenile Act.
But why must we always wait for a tragedy to update our laws?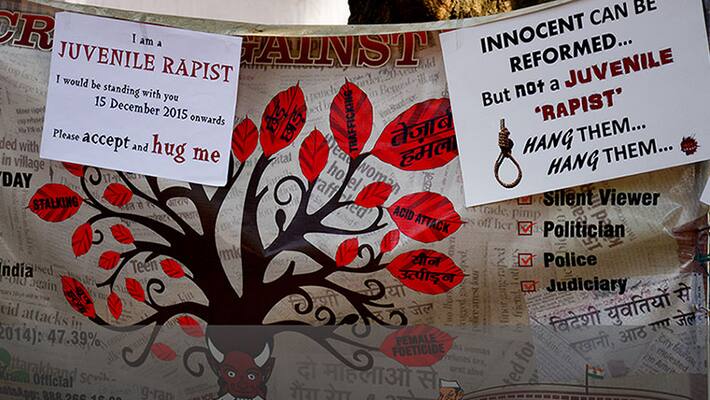 Asha  Devi, the mother of the Delhi rape case victim 'Nirbhaya', had said "I don't need to hide the name of my daughter. I proudly say her name is Jyoti Singh Pandey. Those rapists should feel shame to disclose their names, not my daughter".
This is true. The real shame belongs to the rapists. However, their inhuman act did trigger the reform and amendment of the Juvenile Justice Act in 2015, proving once again that tragedy pushes our laws a lot more than prevention. This sentiment is not only limited only to India. Even Ireland amended its Abortion Act after the death of Savitha Halappanavar, an Indian doctor, who died after denied abortion.
Back in India, this amendment came too late for Nirbhaya, whose brutal and horrific torturer is currently living as a free bird, thanks to his juvenile status - despite being vital contributor to the inhuman and nauseating acts inflicted on the innocent girl.
The signs that we need to amend the Juvenile Act existed much before the horrific gang rape and continue to be a worrisome trend today. 
The rate of juvenile delinquencies is increasing every year, particularly between the years 2005 and 2014. According to statistics, juvenile crime rates have raised by 50.6%.
Sources in the Home Ministry say that in 2011 a total of 33,387 cases of juvenile delinquencies have been filed. A majority of the cases were rape cases and around 21,657 juveniles were in the age group of 16-18.
Juvenile violence cannot be considered in a simple, or casual, way. It really is not as simple as 'they are too young to know what they are doing'. Repeatedly, there have been instances of juveniles getting into terrorism and other serious crimes after their release from juvenile rehabilitation centres.
The difficulty is that people like Jyoti Singh have to sacrifice their lives or go through immense grief and torment to make the law open its eyes.
We have not created a system where the law automatically finds the ways to amend and update itself without getting pressurised from the public.
In these modern days, even a two-year-old kid knows how to operate a smartphone and a ten-year student can skillfully work on a computer like an expert. Most children in the cities get acquainted with all kinds of porn images and videos by the time they reach their adulthood.
It is not only the responsibility of the parents to vigil these developments. The system also must be updated as per the changes that are going around the world. Hopefully, next time, the law updates itself without waiting for another victim to fall.
For now, the situation seems to be improving - however slowly. Over 64 years, around 1301 outdated laws have been repealed. But in a dramatic change, within the last two and half years as many as 1,159 obsolete laws have been removed.
A step in the right direction.
Last Updated Mar 31, 2018, 7:01 PM IST