When Osama Bin Laden nearly got an Aadhaar in India
Saddam Mansuri, an UIDAI operator tried to enrol an Aadhaar card under the name of Osama Bin Laden.
He also uploaded a blurred image of the slain terrorist without any thumb impression or ID proof.
The technical team in New Delhi detected the dubious inputs and alerted local authorities.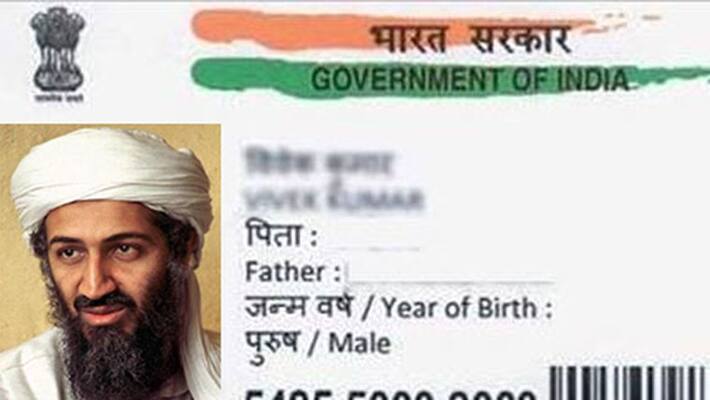 The operator is a 35-year-old man identified as Saddam Mansuri who runs a registration office of Aadhaar in Mandal in Bhilwara district. 
A few days ago, Mansuri tried to enrol the Aadhaar card under the name of Laden, the Times of India quoted the police as saying. On the address column, the man added Abbottabad, Bhilwara district and uploaded a blurred image of Laden. However, he did not provide any details - like thumb impression or any identification proof; the national daily quoted Mandal Deputy SP Chanchal Mishra as saying.
After the details were uploaded, the verification department flagged the upload on the database due to the missing thumb impression and iris scan details. The technical team operating from New Delhi found it suspicious and they alerted the Rajasthan department of information and technology. After getting a tip off from the Jaipur office, the department of IT's Mandal circle programmer, Sanjay Aludia, filed an FIR. 
Acting on this FIR, the Mandal police registered a case against Mansuri under the Information Technology Act. However, the police are yet to take any action as they are waiting for the documentary evidence from the IT department. Once the documents are received, the man will be quizzed about why he tried to make an Aadhaar card under the name of the terrorist.
Meanwhile, Mansuri stated that he is innocent and that someone else has uploaded the details of Laden. But, the user ID is of Mansuri and the application could have been only uploaded under his supervision, the TOI quoted Aludia as saying. 
Last Updated Mar 31, 2018, 7:07 PM IST