Aadhaar mandatory for mid-day meal: A good move to stop food corruption
Beneficiaries of mid-day meal must produce a proof of possession of Aadhaar number or undergo authentication.
HRD has given a window till June 30 to those who do not have an Aadhaar card yet top go get one.
Though criticised, the move may prove a blessing in the long run and cut rampant corruption in food.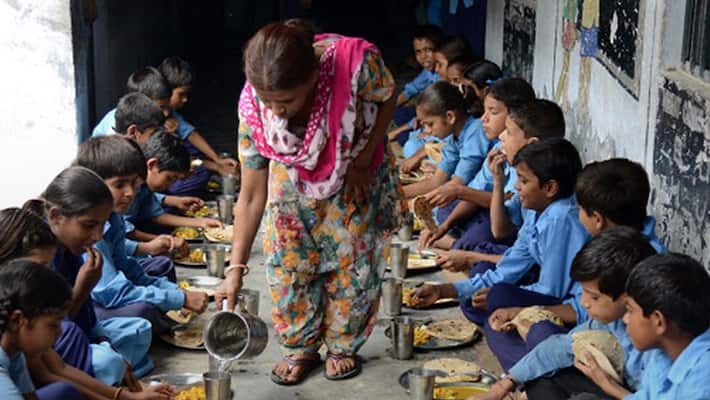 The mid-day meal is an excellent scheme by the Central government to attract kids from underprivileged families to attend schools. The government releases an enormous amount of money for this plan every year. In 2015-16, the funds released for this scheme were ₹9151.55 crore and the year before that the amount was ₹10526.97 crore. 
However, due to lack of supervision and monitoring, multiple allegations of corruption have been made from time to time. In 2015, the Comptroller and Auditor General of India's (CAG's) performance audit report revealed that this scheme is marred by financial mismanagement and diversion of funds. Irregularities in implementing the mid-day meal scheme and also numerous deaths due to contaminated food have been regularly reported before. 
In the midst of all these allegations and mismanagement of the scheme, making the Aadhaar card mandatory will bring accountability and better monitoring by the Central government, as at the very least, one can keep a track of who is actually recieving the benefits. 
The Ministry of Human Resource Development (HRD) recently made the Aadhaar card mandatory for cook-cum-helpers and students to avail the mid-day meal scheme. The move, aimed at improving transparency and efficiency, follows a push from the Central government to link the Aadhaar number with subsidy schemes related to school education. 
The Department of School Education and Literacy (DSEL), under the Human Resource Development ministry, has decided to give a window till June 30 to those who do not have an Aadhaar card yet.
"A notification will be sent to schools that students desirous of availing the benefits under the mid-day meal scheme will be required to furnish proof of possession of Aadhaar number or undergo the authentication," a senior ministry official said.
The cook-cum-helpers engaged under the scheme for preparing and serving mid-day meals at schools are honorary workers who come forward for rendering social services and are paid an honorarium for the same.
"The cook-cum-helpers are also treated as beneficiaries under the scheme, and hence they will also be required to furnish Aadhaar numbers," the official said.
Last Updated Mar 31, 2018, 6:41 PM IST