Kammattipaadam: Welcome to Dalit Noir. And It is brilliant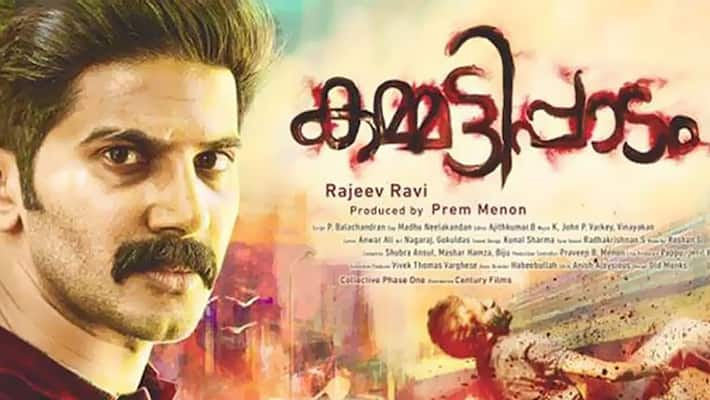 From worms to tigers, from insects to eagles, from elephant seals  to all other creatures of wild; and different Gods from different times along with us the Polayars lead a wretched life, we all struggle alike and die in this world, my beloved son.
'Kammattipaadam' starts with this lovely song.
Krishnan (Dulquer Salmaan) who works as a security guard in Mumbai gets a telephone call from his childhood friend Ganga. The call drops. Realising that his friend is in trouble, Krishnan leaves at once for Kammattipaadam, his native place.   
From there on, it's a three-hour flashback which takes us to Kammattipaadam, a slum in Ernakulam. It's the 1970s.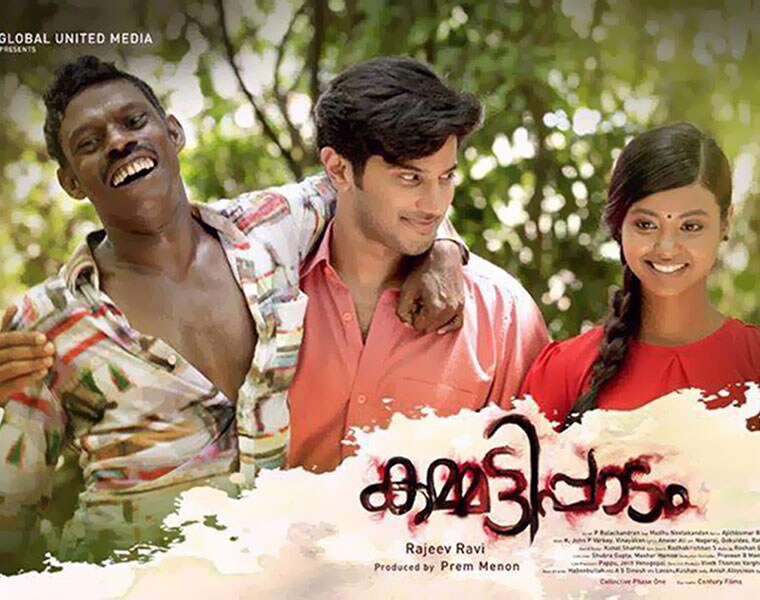 Ganga's elder brother Balan is a small time hooch smuggler and a henchman. Friends Ganga and Krishnan grow up in the shadow of Balan the rowdy, and join him in the trade.
Once when Krishnan and Ganga are smuggling spirit, they are confronted by the police.  In a bid to save his friend, Krishnan accidentally kills a policeman and is sent to jail.
Also Read: 5 reasons Housefull 3 is not worth your time or money
Meantime, the residents of Kammattipaadam are being forcibly, illegally cleared out to build an apartment complex. Balan, who was initially supportive of the mafia don who forcefully evacuated the slum dwellers,now wants to lead a more sedate life that doesn't bring him in conflict with law. Before he could embark on a reformed life, his enemies kill him.
At a young age, Krishnan and Anita, a relative of Ganga, fall in love.
Their romance is picturised very realistically, which is quite a departure from the over-the-topness of Indian cinematic tradition. Ganga holds Krishnan indirectly responsible for his brother's death. And, he marries Krishnan's love interest Anita.
'Kammattipaadam' grasps the plight of the marginalized--in this case, the Pulayars, comprising the bottom of the barrel even among Dalits--with astonishing accuracy.  That alone makes it a must-watch.
Also Read: Aishwarya Rai Bachchan a total misfit in Sarbjit
Kammattipaadam' is an authentic Charu Nivedita biopic I did not script. The young Krishnan is me, almost.
 

Mindless violence, fuelled by alcoholism is part of everyday life for Dalits in rural India, and most urban shanties. No Indian film has portrayed this as powerfully as 'Kammattipaadam'.
Like the Pulayars of this film there were Thombars--a Telugu-speaking community of manual scavengers--in my village in Tamil Nadu. In the social pecking order, the Kattu Naickan family (another Telugu-speaking tribe) I was born in, was only marginally, 'higher' than the Thombars. Our community's stock-in-trade, according to tradition, was hunting.  But due to deforestation and urbanization,  we resorted to smuggling and thieving.  If the police got us, they'd tie our legs together and rain bamboo stick-blows like horseshoes hammered into equine hooves. 
Our folk were raised on a regular diet of oxtail soup, known for its pain-numbing powers.
In one violent attempt at looting a house in broad daylight, I was caught by the police. There were witnesses to nail me for good. The local police inspector was a decent chap. He called me home. The fact that I was the best student in my class may have helped. But I suspect I earned his sympathy because my skin was fairer than others of my ilk.
'Once a case is filed against you, you'll remain a criminal for the rest of your life. Finish your final year at school and scoot from this place,' he helpfully said.  I haven't been to my Kammattipaadam since.
Mindless violence, fuelled by alcoholism is part of everyday life for Dalits in rural India, and most urban shanties. No Indian film has portrayed this as powerfully as 'Kammattipaadam'.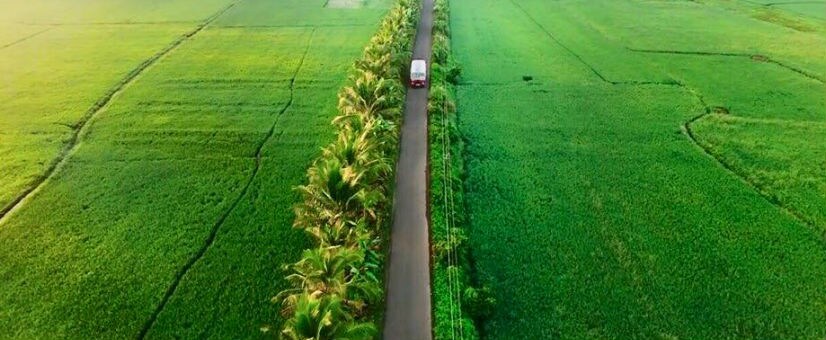 Besides a few in Kannada, no south Indian film has captured the Dalit life in such great detail or nuance. In Tamil, director Selvaraghavan's 'Pudupettai', or Pa. Ranjith's 'Madras' capture the lives of the marginalised somewhat authentically, but they eventually fall prey to 'masala' temptations.
It can safely be argued that Kammattipaadam, moving away from the mainstream, has introduced to us a brand new Dalit cinematic aesthetic.
Now to the niggles.
One, the climax succumbs to Indian filmy trope of revenge.
Two, Dulquer Salmaan is an utter disappointment. His acting is as constipated as former Tamil hero Ramarajan's (he of the AIADMK-coloured, red-white-black shirts and orange lipstick fame).
Vinayakan (Ganga) and Manikandan (Balan), can teach Dulquer Salmaan an acting lesson or two.
This film reminds me of Oscar Lewis' 1966 book 'La Vida' which analyses the state people living in Puerto Rico's slums. Lewis through his book advanced the idea that big-money anti-poverty schemes would come a cropper if education was not at the foundation of it all.
India's villages and urban slums remain Kammattipaadam's because our policymakers and politicians have not understood this culture of poverty. Instead, they choose to rain freebies such as television sets, and mobile phones.
One cannot praise enough director Rajeev Ravi's courage for telling us, unapologetically, the stories of people whose lives are no different from that of slaughter animals we rear in claustrophobic pens. 'Kammattipaadam' is the hardest slap of realism on our face in recent times.
Last Updated Mar 31, 2018, 6:42 PM IST