Refugee crisis fuels rise of far-right in Germany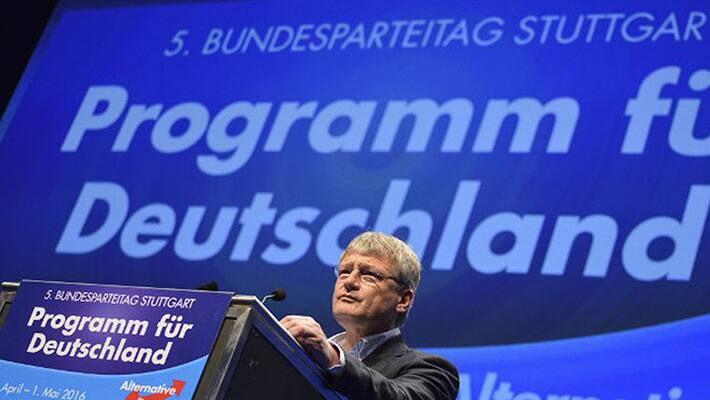 Even though the news cycle seems to have exhausted its attention span, hundreds of refugees fleeing the scene of unending civil war in Syria and theatres of conflict beyond are still trying to make their way to Europe, and more specifically to Germany.
The European Union has been struggling on how to handle this influx of refugees as a collective unit, and tensions created by this issue have widened the already existing cracks in the pan-nation coalition experiment forming the idea behind a united Europe.
Even as Germany, the de-facto chief and economic engine of Europe, has taken in more than 1.2 million refugees in 2015 its other colleagues in the union have not only stonewalled responsibility but have witnessed an entire tilt towards more conservative and right-wing politics.
Most countries have resorted to close their borders to stop the refugee inflow while some have allowed refugees only through a passage. Countries like Austria have had more severe reactions, with the recent first round of the largely ceremonial presidential elections in the country giving the far-right, anti-refugee Nobert Hofer of the Freedom (NHF) party a clear win with a 36% vote share. Similar political sentiments have also arisen in neighbours such as France, Poland, Denmark and so on.
Germany's Chancellor, Angela Merkel and her 'Christian Democratic Union' party have enjoyed great success in German politics for years. However, today pockets of strain are visible as criticism of her liberal handling of the refugee crisis, often labelled as "naive" by some members of her party, gains more momentum in the public discourse. These strains have now made space for alternative politics in Germany, with that vacuum today being filled by the new 'Alternative for Germany' (AfD) political party.
The AfD, which was born out of estranged members of Merkel's CDU in 2013, is today raking up its popularity by marketing itself as a strong alternative to Merkel's politics.
Principally founded by German politician and macroeconomist Bernd Lucke (who was incidentally ousted by his party last year), Afd was setup as primarily an anti-EU outfit. In the 2013 Greek financial crisis, Germany had to provide to not only secure Greece but also the entire European Union. Some members of both the CDU and its alliance partner the 'Social Democratic Party' (SDP) saw this outflow of cash into ailing 'foreign' economies as bad policy and decided to secede and pursue their own 'alternative' political ideologies, which eventually became the Afd.
Today, for the Afd, the refugee crisis has come as a blessing of sorts to exert more pressure than ever before against Merkel and her policies.  And this has also paid off for them in some ways, with the party doing well in the recent state parliamentary elections where it won significant chunk of the votes in the state of Saxony-Anhalt and did well in other states such as Baden-Wurttemberg and Rheinland-Pfalz. AfD also called racist and neo-Nazi groups such as 'Patriotic Europeans Against the Islamisation of the West' (PEGIDA) as its natural allies to tap into another type of voter base.
To counter AfD's still modest rise, Merkel and the CDU have warned about the risk of a "relapse into nationalism" if European borders are not protected. In a joint statement with the Italian Prime Minister MatteoRenzi in Rome, Merkel said that Europe must defend its borders "from the Mediterranean to the North Pole" or suffer the "political consequences". She warned that the much-cherished freedom of movement within Europe was now at risk due to intensive border controls by many states.
Merkel's warnings come after the Balkan states have practically closed off all routes for the refugees, making others such as Italy and Greece take in the brunt of the numbers. This situation is especially precarious for Greece, a country already reeling from a borderline non-existent economy, now having to take care of thousands of refugees even though Germany is giving financial and technical assistance to Athens to deal with the situation.
There is no denying that, if nothing else, Germany is going through an interesting time in its political debate.
While many here still ponder as to what exactly are the reasons behind Merkel's pro-refugee policies, it is vital to remember that Germany and Germans largely seem to have been receptive to helping the refugees and most anti-refugee rallies are met with equally big pro-refugee rallies.
However, every modern state with socio-economic systems and geographical borders has a tipping point on such matters when idealism and humanitarianism become political baggage.
It will now be interesting to see when this definition of a tipping point will surface its head in Merkel's 'Berlinology', and how prepared the Chancellor is to deal with it.
Last Updated Mar 31, 2018, 6:37 PM IST