Star fight: This is the video which caused Darshan to end friendship with Sudeep
This video has the answer to why Darshan ended relationship with Sudeep with a tweet
Watch the video to know if Sudeep was really taking a dig at Darshan?
Darshan has also clarified that his Twitter account has not been hacked and he has posted the Tweet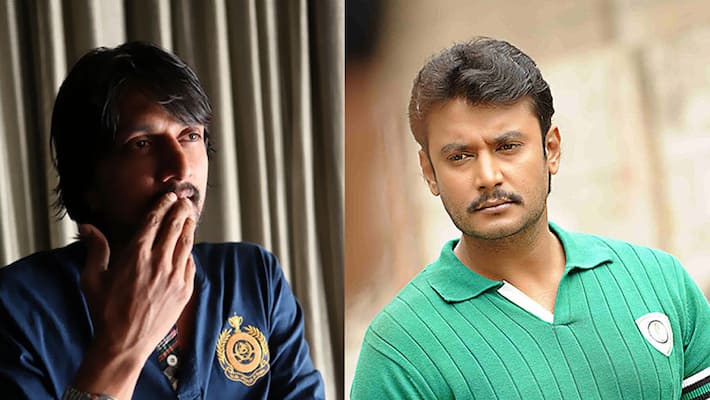 To know what caused this difference which spurred anger in Darshan, it is better to watch the video.
For those who cannot understand Kannada, here is the translation of the what Sudeep has told about Darshan in the video.
Sudeep speaks about Darshan in an interview:
Anchor: When did you meet Darshan, for how long you have known him?
Sudeep: I have known Darshan from the time he entered the film industry. I was in the Chamundeshwari Film Studio and saw a person standing with the clap board. When I asked someone who was the boy, they said it was veteran actor Srinivas Thoogudeep's son. I was taken aback. That moment I felt, when you are gone, you are just gone. Most of the times, your name will not help your son get stardom. Darshan has struggled a lot. He has come up a hard way. His journey from that boy to the star he is today is tremendous. He has a huge mass fan following.
But the contentious point came when Sudeep said that Darshan's first film Majestic was offered to him.
Sudeep: Director Satya had approached me for the lead role in the movie Majestic. Nut I was not in a position to do the movie then and referred Darshan for the movie. I told them that I cannot do that movie. Instead, you can ask that man (Darshan). It was really sweet of them to approach Darshan, and he too agreed to do a movie with them.
Later, Sudeep also spoke that most of the time Darshan's name is being dragged for wrong reasons. But we should see his good side too. Be it his love for animals- which takes a big heart and effort to do something like that. Sudeep calls this effort as really sweet.
Meanwhile, the part of the interview which worried Darshan was when Sudeep said that he saw Darshan as a clap boy. Darshan rubbished this and said he has never worked as a clap boy. A report in Kannada Prabha had said that Darshan, who is from a theatre background, worked as a light man and then as a camera assistant, before getting the lead role in the film Majestic.
Sudeep's talking about Majestic movie (Darshan's first film) somehow did not go down well with Darshan, who said that he did not get to act in the movie Majestic as a help or alms from someone but got it directly. Thus in this tweet, Darshan showed his anger publicly.
However, it doesn't look like Sudeep wanted to take a dig at Darshan while considering the entire video. To a tweet from a fan, who asked Sudeep and Darshan to get together, this is what Sudeep had to say.
Last Updated Mar 31, 2018, 6:44 PM IST