Modi to reach Kerala to give a final boost to NDA campaign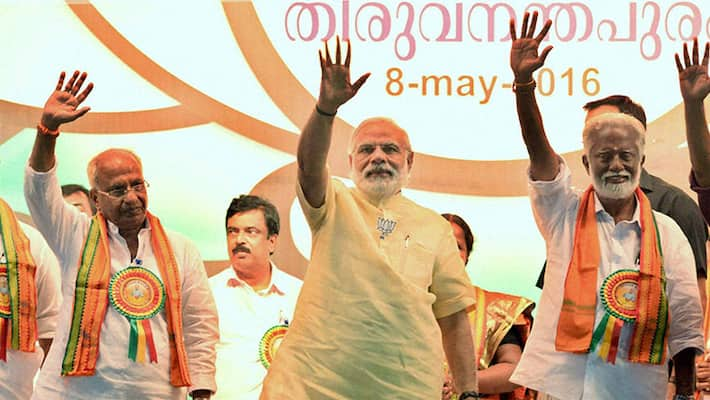 Prime Minister Narendra Modi will address National Democratic Alliance's (NDA) poll rally at Tripunithura in Ernakulam on Wednesday evening. The NDA has made arrangements to show the speech live at 1,000 locations in the state, which is going to polls on 16 May. 
The rally on Wednesday at 7.30 pm. is the fifth one addressed by Modi in Kerala ahead of the Assembly polls.  The NDA will organise public meetings at all the 1,000 locations where the rally would be displayed live.
The Prime Minister's rallies across the state had attracted huge crowds in Palakkad, Kasargod, Kuttanad and Thiruvananthapuram. His speeches were successful to a great extend to set the poll agenda in Kerala. During his last visit, besides raising local issues, Modi also attacked the Gandhi family for its alleged links in the Augusta Westland scam, which created a furore at the national level. Irked by Modi's speech that took on Sonia Gandhi in a very sarcastic tone, the Congress raised it in the Parliament questioning the propriety of a Prime Minister speaking in that manner.
Gandhi, who reached Kerala on Sunday, had replied to Modi in an emotional manner and said that she was being attacked for her Italian origin. 
The BJP is putting a big stake in the upcoming elections in Kerala where it hopes to open an account in the assembly for the first time. Even though national issues are not very much discussed in the poll scene here, for the BJP, Modi is their trump card. And the rally at Tripunithura will be their final push to reach their goal. 
Last Updated Mar 31, 2018, 6:41 PM IST