WHO chief warns: 'The pandemic is a test and the world is failing'
The WHO chief said that anyone who thinks the pandemic is over because it is over where they live is living in a fool's paradise.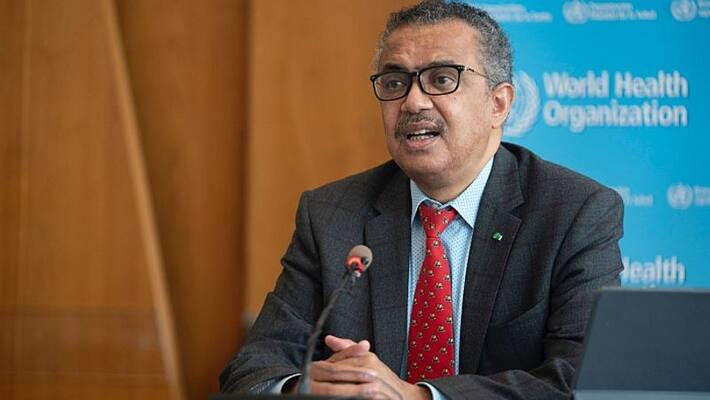 World Health Organisation Director-General Dr Tedros Adhanom Ghebreyesus has said warned that the world is failing the Coronavirus test.
Addressing the keynote speech at the 138th International Olympic Committee Session, Dr Tedros said, "I am often asked: when will this pandemic end? Indeed, the COVID-19 pandemic has asked us many questions: About ourselves; and about our world. The pandemic is a test. And the world is failing. Over 4 million people have died, and more continue to die." 
"Already this year, the number of deaths is more than double last year's total. By the time I have made these remarks, more than 100 people will lose their lives to Covid-19. And more than 100,000 more people will perish by the time the Olympic flame is extinguished on the 8th of August," he added.
Reiterating that the pandemic threat will not be over until it is over everywhere, the WHO chief said that anyone who thinks the pandemic is over because it is over where they live is living in a fool's paradise.
He warned that more variants will emerge from increased transmission with the potential to be even more dangerous than the Delta variant that is "causing such devastation now".
"And the more variants, the higher the likelihood that one of them will evade vaccines and take us all back to square one. None of us is safe until all of us are," he said.
Urging teams and athletes who are in Tokyo for the 2020 Olympics to make the Games as safe as possible, Dr Tedros sought to draw a parallel, stating, "In the next fortnight, athletes will focus on producing their best performances to triumph for themselves and their nations. Success at these Games requires speed, skill and strength. But it also requires discipline, determination and dedication. The same is true for us. Our focus as a world united must be on doing everything we can to triumph over the pandemic with determination, dedication and discipline. We are not in a race against each other. We are in a race against the virus, a very dangerous virus. The pandemic is a severe health crisis. But it's much more than that. It is more than a test of science; it is a test of character."
"The Games bring the nations of the world together in celebration -- a celebration of sport, health, excellence, friendship and respect. But ultimately, they are a celebration of something even more important, of something that our world needs now, more than ever: A celebration of hope. The celebrations may be more muted this year, but the message of hope is all the more important."
Last Updated Jul 21, 2021, 9:48 AM IST