WATCH Viral Videos: Dazzling meteor lights up Turkish sky; leaves green streaks
Spectacular meteor lights up the night sky in Turkey, leaving behind mesmerizing green trails, while a similar celestial event is observed in Colorado.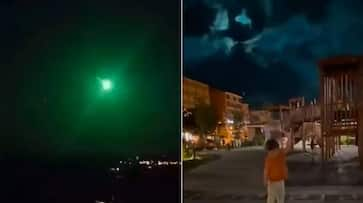 Multiple videos circulating on social media depict a stunning meteor streaking across the night sky in Turkey on Saturday, September 2. This meteor left awe-inspiring green trails of light in its wake as it traversed over Erzurum City and Gumushane Province in the eastern region of the country.
Witnesses captured mesmerizing footage of the sky aglow with vibrant green flashes as the meteor glided through the cloud-covered expanse. One particularly captivating video, shared on X by Nahel Belgherze, showcases a child engrossed in playing with a balloon when the meteor suddenly darts across the cloudy sky.
According to information provided by the American Space Agency, NASA, meteoroids, often referred to as "space rocks," encompass a range of objects in space, varying in size from minuscule dust grains to small asteroids. When these celestial objects enter Earth's atmosphere at high velocities and subsequently incinerate, they are known as meteors.
As of now, official authorities have not issued an official explanation regarding the origin of this celestial object. This aerial phenomenon occurs just a few weeks after the Perseid meteor shower, which graced the night skies between July 17 and August 19.
Notably, a similar extraordinary occurrence unfolded in Colorado the previous week, where a colossal fireball illuminated the heavens. This spectacle unfolded around 3:30 a.m., and only a handful of individuals awake at that hour were fortunate enough to witness it. Many residents shared captivating visuals captured by their doorbell and security cameras, showcasing the celestial event as it unfolded above.
Last Updated Sep 4, 2023, 1:55 PM IST