Shocking! 2.2 million litres of red wine flows through Portugal town; here's what happened - WATCH
A small town in Portugal, São Lourenço do Bairro, witnessed a surprising incident as millions of litres of red wine flowed through its streets from a burst distillery, prompting an environmental alert and a swift response from the fire department.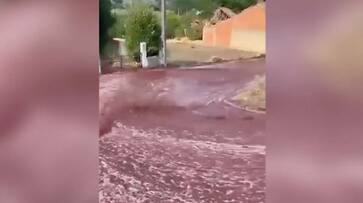 Sao Lourenco do Bairro in Portugal experienced an unexpected and astonishing event last Sunday when the streets of this small town became flooded with a river of red wine. Astonished residents could hardly believe their eyes as millions of litres of wine cascaded down the town's lanes in a seemingly never-ending flow.
This enigmatic wine river had its origins in a local distillery in the town. Unexpectedly, the tanks containing barrels holding over 2.2 million litres of red wine burst, leading to this massive spill. To put it in perspective, the quantity of spilled wine could fill an Olympic-sized swimming pool. The incident also triggered an environmental alert, as the river of wine was on a course towards an actual river nearby. Moreover, reports indicated that the wine had inundated a basement in a house near the distillery before making its way through the rest of the town.
In response to this unusual situation, the local fire department sprang into action to prevent the wine flood from transforming the Certima River into a river of wine. They successfully redirected the flow, channeling it into a nearby field, as reported by The New York Post.
Levira Distillery, responsible for this bizarre incident, issued an apology and affirmed its commitment to cleaning up and rectifying the damage caused. In a statement, the distillery stated, "We assume full responsibility for the costs associated with cleaning and repairing the damage, having teams do so immediately."
Last Updated Sep 12, 2023, 10:10 AM IST