Queen Elizabeth II's third-gen Range Rover with unique features hits auction market; Check details
A 2004 Range Rover L322 that is formerly the property of Queen Elizabeth II has hit the auction market — and is officially for sale at Iconic Auctioneers. The vehicle, which was first registered in 2004, is an Epsom Green and Sand Hide color with a modified front grille that includes covert lights, according to the auctioneers.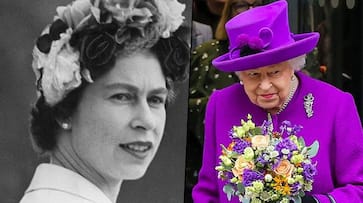 The third-generation Land Rover Range Rover with a regal history is all set to be auctioned off.  This unique car, which has a royal heritage, will go up for auction at the esteemed NEC Classic Motor Show Sale 2023 in England on November 11.
The Special Vehicle Operations team at Land Rover created this unique Range Rover with great care and devotion just for the late Queen. Her Majesty had a soft spot for this automobile, which she frequently saw driving her about.
This amazing Range Rover has several unique characteristics that make it stand out from the other variants. The Queen took great care to maintain both the Epsom Green exterior and the Sand Hide interior, making ensuring that the seats were covered on the front and back.
The rear doors are also thoughtfully designed; each has two window switches so that backseat passengers may easily control them without having to lean or stretch. All occupants' ease of access and departure is further improved by the addition of grab handles and side stairs.
Furthermore, this remarkable vehicle features a dedicated dog guard, separating the passenger compartment from the cargo hold with a protective cage.  To maintain the vehicle's clean look throughout all-terrain travels, the front grille has been redesigned to cover lights and mudguards.
This rare Range Rover was initially registered in the UK in 2004 and had its first servicing in April 2005, with around 110,000 miles on the odometer. It's in good functioning order because its most recent service was completed in July.
This automobile marvel is propelled by a sturdy 4.4-liter engine that produced 282 horsepower of power when it was first installed, over 20 years ago. Interestingly, the beloved number plate BN04 EPU is still on it.
This car is a sought-after collector's item because of its verified Royal ownership, which is what really sets it apart. This beauty will turn attention and make a royal statement on the road for the fortunate person who takes it home.
The Queen, who held the distinction of being the UK's longest-serving monarch, passed away last year in September. She had a deep fondness for driving and was often seen behind the wheel of this Range Rover
Last Updated Oct 26, 2023, 3:05 PM IST