President Trump says coronavirus worse for US than Pearl Harbor, 9/11
Trump said fallout from the coronavirus pandemic has hit the United States harder than the December 7, 1941 Japanese bombing of Pearl Harbor or the September 11, 2001 Al-Qaeda attacks on New York and Washington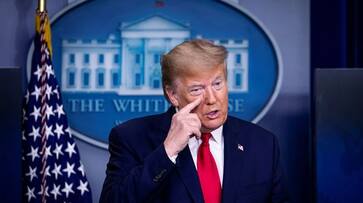 Washington DC: President Donald Trump renewed his criticism of China on Wednesday over the global coronavirus pandemic and said it has been worse for the United States than Pearl Harbor and 9/11.
As Germany unveiled plans for a return to near-normality -- including a May 15 restart of the Bundesliga -- the European Union forecast a historic recession on the virus-battered continent.
Countries in Asia joined Europe in easing the lockdowns that have kept swathes of humanity indoors for weeks and pummelled economies, leaving millions without jobs.
The central bank of Brazil, the hardest-hit country in Latin America, slashed its benchmark interest rate by three-quarters of a percentage point, saying the economy needed "extraordinarily strong" measures to fight the pandemic's impact.
On the political front, Poland's governing parties agreed to postpone the May 10 Presidential election after it became clear it could not be held via a postal vote because of the outbreak. A new date was not immediately clear.
Trump said fallout from the pandemic has hit the United States harder than the December 7, 1941 Japanese bombing of Pearl Harbor or the September 11, 2001 Al-Qaeda attacks on New York and Washington.
"This is really the worst attack we've ever had," Trump told reporters at the White House. "This is worse than Pearl Harbor. This is worse than the World Trade Center."
The surprise Japanese attack on the Pearl Harbor naval base in Hawaii drew the United States into World War II.
The 9/11 attacks killed about 3,000 people, triggering two decades of US wars and anti-terrorism operations in Iraq, Afghanistan and other countries.
Trump lashed out at China, continuing a war of words over the origins of the deadly virus that emerged in Wuhan last year.
"It should have never happened," he said. "Could have been stopped at the source. Could have been stopped in China."
China hit back Wednesday at US Secretary of State Mike Pompeo over his claims the virus originated in a Wuhan laboratory, saying he has no evidence.
"This matter should be handed to scientists and medical professionals, and not politicians who lie for their own domestic political ends," China's foreign ministry spokeswoman said.
Scientists believe the disease originated in animals and jumped to humans -- possibly in a Wuhan wet market where wild animals were sold.
So far, more than 73,000 Americans have died of COVID-19, and the former director of the Centers for Disease Control and Prevention predicted the toll in the US could top 100,000 by the end of May.
With Agency Inputs 
Last Updated May 7, 2020, 9:01 AM IST