Photos: New York man wins house in lottery, gives tour on social media
A man in New York won a luxurious apartment in a lottery and posted a video showing off the property that has now gone viral. The man invites social media users to "come see this apartment with me". His video has been viewed more than 1.4 million times since being posted.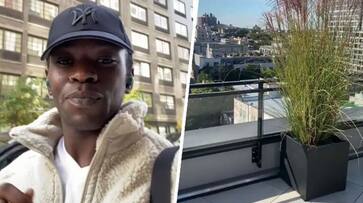 A New York City man won a luxurious apartment through the Big Apple's housing lottery and his gleeful video showing off the perks that come with it has gone viral. On TikTok, the unnamed man—who goes as McMurdaaaa on social media—excitedly displayed his new Brooklyn flat.
"Good morning, y'all! I got picked for the housing lottery, come see this apartment with me," he said in the video that's been viewed more than 1.4 million times.
He gets himself a large cup of iced coffee, then goes to the flat to show off the opulent structure. Describing the video, the outlet said that the lobby area has seating and a receptionist desk, while his own house has a large closet.
(Photo: TikTok | @mcmurdaaaa)
Then he takes us inside the stunning new kitchen, complete with plenty of shelves and modern equipment, and the spacious bathroom, including marble floors and a wide mirror. Additionally, the unit offers a rooftop lounge with grills, deck chairs and stunning city views. He also shows out the building's gaming area, which has a pool table, seats, a refrigerator and a gym.
(Photo: TikTok | @mcmurdaaaa)
According to NYC Housing Connect, he won the apartment through a housing lottery. The apartments are available in all five boroughs of New York and provide affordable housing at costs one-third or less than the winner's salary.
The income and unit size requirements vary according on the building, and one must fulfil them in order to be eligible. Along with being able to pay the first month's rent and security deposit, the winner must also be willing to submit to a credit check or demonstrate their renting history.
Last Updated Oct 20, 2023, 1:39 PM IST