Moon wobble would cause dramatic coastal flooding in 2030s, says NASA
According to NASA, many cities on the US Atlantic and Gulf coast will witness a dramatic surge in high tide floods.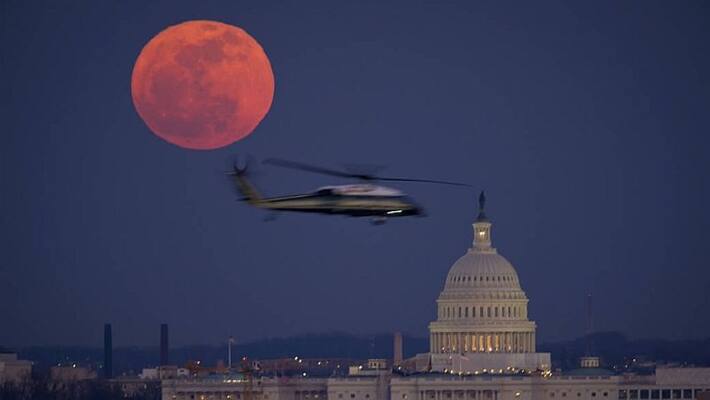 If US space agency NASA's latest projections are correct, the country's coastline could witness rapidly increasing high tide floods thanks to changes in the lunar cycle and climate change by the mid-2030s.
According to NASA, many cities on the US Atlantic and Gulf coast will witness a dramatic surge in high tide floods. These cities already face a familiar problem with the National Oceanic and Atmospheric Administration reporting over 600 such floods in 2019 alone. 
However, starting around the mid-2030s, the alignment of rising sea levels with a lunar cycle will trigger a decade of a dramatic increase in flood numbers in coastal cities all around the US.
A new study by the NASA Sea Level Change Science Team attributed the higher rates of flooding to a regular 'wobble' in the Moon's orbit that takes 18.6 years to complete. 
Though there is nothing new or dangerous about the Moon's wobble -- this first such phenomenon was reported in 1728 -- what could pose a concern is how the latest wobble will affect the Moon's gravitational pull.
The gravitation pull impacts the Earth's tides. But couple it with rising sea levels due to global warming, and that could put residents of these cities in a spot of bother and impact livelihoods.
Explaining how the dramatic surge in high-tide floods could impact livelihoods, Phil Thompson, University of Hawaii assistant professor and the study's lead author, said that even though tide surges are common when these floods happen 10 or 15 times a month, businesses "cannot keep functioning with its parking lot underwater".
Some US coastal cities may even see floods every day or two.
According to NASA, In the first half of the Moon's 18.6-year cycle, the planet's regular daily tides are suppressed, with high tides being lower than normal and low tides being higher than normal. However, in the other half of the Moon's cycle, the high tides get higher, and the low tides get lower.
Currently, the Moon is in the tide-amplifying part of its cycle now. 
The study underscores that global sea-level rise will only push high tides higher. The higher sea will cause a leap in flood numbers on almost all US mainland coastlines, Hawaii, and Guam.
Image Credit: NASA/Bill Ingalls
Last Updated Jul 16, 2021, 1:29 PM IST