Man who captured the first spirit photograph - Uncovering the remarkable story of William H Mumler
The article explores the history of spirit photography, focusing on its origin, notable figures like William H Mumler, and the controversies surrounding this unique photographic practice in the 19th century.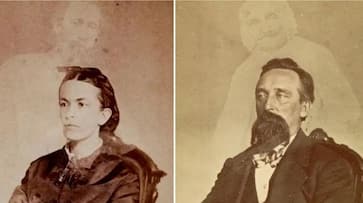 Spirit photography is a fascinating branch of photography that seeks to capture images of the spirits of deceased individuals. It gained popularity in the mid-19th century, shortly after the invention of photography itself. Notably, one of the pioneers in spirit photography was William H. Mumler. These photographs have been viewed by many as potential evidence of the existence of the spirit world or the afterlife, and the practice remained prevalent from the mid-19th century to the early 20th century.
William H. Mumler, initially a jewelry engraver and amateur photographer, unintentionally created the first spirit photograph when he captured a double-exposure image. Surprisingly, this photograph, taken in 1862, featured Mumler himself with the spirit of his deceased cousin standing behind him.
As per The New Yorker, Mumler initially regarded the photograph as a curio and shared it with others, receiving astonishment and acclaim from the thriving spiritualist community of the city. This accidental hobby soon transformed into a lucrative business. Mumler spent his days and nights taking spirit photographs, summoning the apparitions of lost loved ones in his studio, providing solace to a public grappling with the high death toll of the Civil War. His images continue to carry an intimate and eerie quality.
One of Mumler's most famous photographs, as documented in the Guinness Book of World Records, features Mary Todd Lincoln alongside the spirit of her husband, Abraham Lincoln. This photograph, taken around 1869, reportedly left Mumler unaware of the spirit's identity, and he only realized it was Lincoln after the photo was developed.
Controversies have surrounded spirit photography, with debates on its authenticity. The Guinness World Records mentions a History article in which Peter Manseau, the curator of American religious history at the Smithsonian Institution's National Museum of American History, labels Mumler as a fraudster. However, he acknowledges not fully understanding how Mumler orchestrated his hoaxes. Manseau explains that during a time of national mourning and loss, the spirit photography movement held significant religious meaning for many.
In one notable case, Mumler created a spirit photograph for a woman who had recently lost her brother in the Civil War. Strangely, when her brother eventually returned home, she did not accuse Mumler of fraud; instead, she attributed it to an evil spirit attempting to deceive her.
Last Updated Oct 27, 2023, 4:31 PM IST