'Louder than a blender': US woman shatters Guinness World Record for loudest burp at 107.3 decibels (WATCH)
Maryland woman, Kimberly Winter, breaks Guinness World Record for the world's loudest burp at 107.3 decibels, showcasing her unique talent and celebrating her achievement.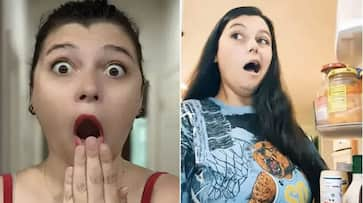 A 33-year-old TikToker from Maryland, US, Kimberly Winter, has broken a Guinness World Record (GWR) with her unique talent of the world's loudest burp by a woman, measuring at 107.3 decibels (dB). This impressive feat surpassed the previous record of 107 decibels achieved by Elisa Cagnoni (Italy) in 2009. Winter achieved the record on April 28, and her burp is louder than a blender, an electric handheld drill, and even some motorcycles at full throttle.
To meet Guinness World Records' requirements, the burp had to be measured in a soundproofed room. Winter attempted the record live on the air during iHeartRadio's Elliot in the Morning show. To help her ace the attempt, she had an iced coffee and breakfast sandwich from Dunkin' and one beer as backup.
Winter's talent for loud burping is not solely reliant on specific foods or drinks. Spicy foods, soda, and alcohol might enhance her burps, but she can produce loud burps with just a little bit of water too. She shared that to achieve her loud burp, she takes a deep breath in and then manipulates it into something monstrous and magical.
She has possessed this extraordinary talent since she was a young child, and as she grew older, her burps only got louder and louder. Winter finds joy in surprising strangers with her burps to witness their shocked reactions, which she finds magical. She embraces being loud and proud with her talent.
"That is just magic to me. I love to see their face. I love to be loud and proud," she said.
Winter plans to celebrate her record with her fans on TikTok Live and enjoy the weekend with her friends and family, including some wrestling and a seafood broil. It is worth noting that the male record for the loudest burp is 112.7 decibels, held by Australia's Neville Sharp.
Last Updated Aug 3, 2023, 9:50 PM IST