Israel-Palestine war: Thousands of Gaza residents break into aid warehouses to take supplies
The statement from UNRWA emphasizes the increasing levels of fear, frustration, and desperation among the populace, with these emotions being further exacerbated by the disruption of phone and internet communication lines.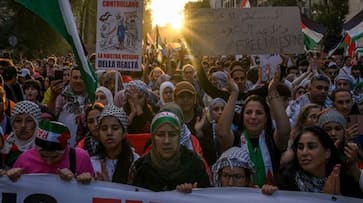 Amidst a worsening crisis, the UN relief agency for Palestinian refugees (UNRWA) reports that a significant number of Gaza residents have resorted to breaking into warehouses and distribution centers located in the southern and central areas of the strip. UNRWA has raised serious concerns regarding these developments, viewing them as early indicators that the state of civil order in Gaza is beginning to erode.
"People are scared, frustrated, and desperate," UNRWA said, highlighting the prevailing emotions among Gaza residents. These sentiments are exacerbated by "tensions and fear," particularly as a result of the "cuts in the phones and internet communication lines."
Israel enters second stage of war against Hamas; IDF ground operations in Gaza Strip
As of the statement released by UNRWA on Sunday, there is no specific information provided about the particular warehouses that were targeted or the precise timing of these incidents.
The UN's humanitarian chief, Martin Griffiths, expressed on Thursday that Gaza had been receiving aid at a rate of "barely trickling" over the past week. This comes amid a backdrop of escalating Israeli bombardment.
Meanwhile, the Israeli Defense Force (IDF) initiated a ground operation in the Gaza Strip, supported by troops in the air and at sea, as confirmed by Israel's political and military leadership on Saturday night. Prime Minister Benjamin Netanyahu declared this as the commencement of the conflict's second stage, with the primary goal being the dismantling of Hamas's military and political infrastructure, along with the recovery of abducted citizens.
Last Updated Oct 29, 2023, 3:04 PM IST