Geological revelation! Zealandia, Earth's 8th 'continent', discovered after 375 years
Geoscientists discover Zealandia, an almost entirely submerged continent, hidden in plain sight for 375 years, reshaping our understanding of Earth's geography.
After nearly 375 years, geoscientists have made an astonishing discovery, revealing the existence of a continent that had long eluded detection. A small team of dedicated geologists and seismologists have meticulously crafted an updated map of Zealandia, also known as Te Riu-a-Maui, as reported by Phys.org. This remarkable revelation was made possible through the analysis of data derived from dredged rock samples retrieved from the ocean floor, and their findings have been documented in the journal Tectonics.
According to a report by the BBC, Zealandia emerges as a vast continent spanning a staggering 1.89 million square miles (4.9 million square kilometers), making it approximately six times the size of Madagascar. The team of scientists involved in this groundbreaking discovery assert that, with the inclusion of Zealandia, the world now boasts a total of eight continents. This latest addition is a standout in the records, for it stands as the smallest, thinnest, and youngest continent on Earth.
Notably, Zealandia primarily remains submerged beneath the ocean's surface, with a mere fraction of its landmass surfacing as islands, reminiscent of New Zealand itself. Andy Tulloch, a geologist hailing from the New Zealand Crown Research Institute GNS Science, who played a pivotal role in this discovery, aptly remarked, "This is an example of how something very obvious can take a while to uncover," as reported by BBC.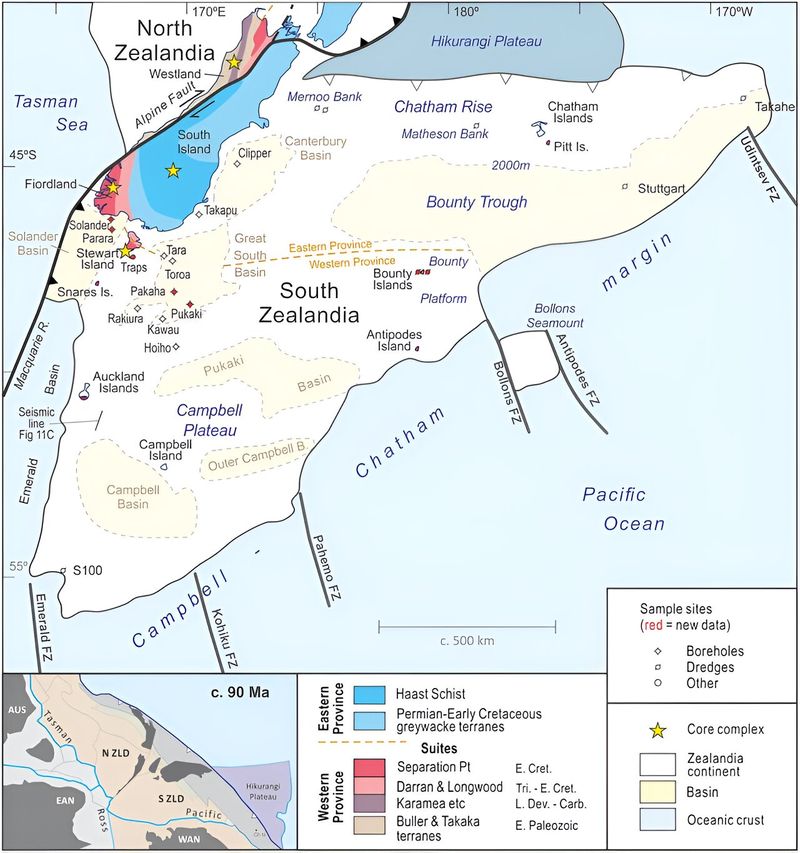 The pursuit of knowledge about Zealandia has always posed a considerable challenge for scientists. To gain insight into this hidden continent, researchers have turned to the examination of collections of rocks and sediment samples retrieved from the ocean bed. These samples originate from a variety of sources, with some collected during drilling expeditions and others procured from the shores of islands in the surrounding area.
Phys.org reported that the study of these rock samples uncovered intriguing geologic patterns in West Antarctica, hinting at the potential existence of a subduction zone near the Campbell Plateau, situated off the western coast of New Zealand. Notably, despite these patterns, the researchers did not detect magnetic anomalies in this area, which contradicts theories pertaining to a strike-slip fault in the Campbell Fault.
The newly refined map of Zealandia not only pinpoints the location of the magmatic arc axis of this continent but also reveals other significant geological features previously concealed from view.
Zealandia's origin can be traced back to the ancient supercontinent of Gondwana, which took shape approximately 550 million years ago, uniting all the landmasses in the southern hemisphere into a singular landmass.
Last Updated Sep 27, 2023, 11:45 AM IST