France bans female students from wearing abaya robes in schools; sparks political debate
French authorities have started enforcing a ban on the abaya Muslim dress in schools, citing concerns about secularism and religious affiliation and sparking debate on civil liberties.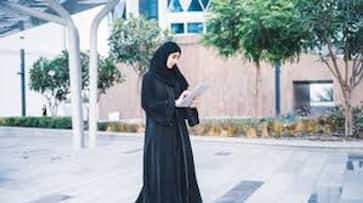 French authorities have begun implementing a recently announced ban on the abaya, a Muslim dress for women, in schools as over 500 educational institutions come under scrutiny on the first day of the school year. The government's decision to ban the abaya in schools is based on concerns that it violates secularism in education, similar to the ban on Muslim headscarves, which are considered displays of religious affiliation. While the ban has received support from the political right, it has faced opposition from the hard-left, who view it as a threat to civil liberties.
Prime Minister Elisabeth Borne visited a school in northern France and reported that things were going smoothly on the first day of the ban's implementation. However, she mentioned that in some schools, girls had arrived wearing abayas. Some of these girls agreed to remove the abayas, while others will have discussions with educators to understand and comply with the law.
"Things are going well this morning. There is no incident for the moment, we will continue all day to be vigilant so that the students understand the meaning of this rule," said Borne.
"Some young girls agreed to remove it. For the others, we will have discussions with them, and use educational approaches to explain that there is a law that is being applied," she added.
Critics on the hard-left have accused President Emmanuel Macron's government of attempting to compete with Marine Le Pen's far-right National Rally and shifting towards right-wing policies with the abaya ban.
Education Minister Gabriel Attal stated that authorities had identified 513 schools that could potentially be affected by the abaya ban at the start of the school year. France has approximately 45,000 schools, with 12 million students returning to school on this day. He emphasized that he did not support imposing a ban on parents wearing religious clothing when accompanying their children on school outings.
To address concerns about school uniforms, some leading figures on the right have called on the government to introduce uniforms in state schools. Attal mentioned that a uniform trial would be announced in the autumn, although he expressed reservations about it being a complete solution to all school-related issues.
France had previously introduced a law in March 2004 that banned "the wearing of signs or outfits by which students ostensibly show a religious affiliation" in schools. This law encompassed items like large crosses, Jewish kippas, and Islamic headscarves. However, abayas, which are long, loose-fitting garments worn for modesty in accordance with Islamic beliefs, had not faced an outright ban until now.
Last Updated Sep 4, 2023, 9:23 PM IST