Coronavirus: Can't sacrifice human lives for reopening New York, says Governor Cuomo
"We are asking the wrong question about reopening," said New York Governor Andrew M Cuomo calling the argument over reopening or not is absurd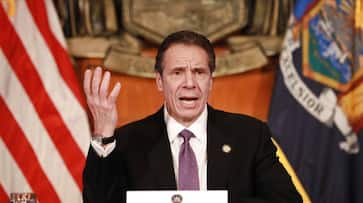 New York: Governor Andrew M Cuomo defended his cautious reopening of New York State as a more humane approach to the coronavirus pandemic, and suggested states that do so more quickly are sacrificing human lives.
Cuomo said on Thursday that he's not willing to trade people's lives to reopen the state's economy, saying it's "absurd" to argue over how many deaths are worth reopening the state.
"This is not a situation where you can go to the American people and say, 'How many lives are you willing to lose to reopen the economy?' We don't want to lose any lives. You start to hear these, to me, what are absurd arguments," Cuomo said at his daily press briefing.
An additional 231 people died from COVID-19 across the state on Wednesday, he said. While the daily number of deaths has been steadily declining, it's been a slow drop, and the number of people dying every day from the coronavirus is still "painfully high," Cuomo said.
He added, "You can calibrate by the number of hospitalizations, the infection rate, the number of deaths, the percentage of hospital capacity, the percentage that you're finding on antibody tests, the percentage of finding on diagnostic tests, positive, negative. You're collecting tracing data, make your decisions based on the information and the data."
To refine Cuomo's point, the issue is not if we reopen but whether we open stupidly, with reckless disregard for human life, or as carefully as possible, driven by the data, so as to avoid unnecessary death and human suffering. 
Cuomo said these facts reaffirm the need for precautionary measures for personal safety and public health, including wearing a mask and using hand sanitizer. They also underscore the need to protect the most vulnerable.
"It reinforces what we've been saying, which is much of this comes down to what you do to protect yourself," Cuomo said on Wednesday.
"Everything is closed down, the government has done everything it could ... now it's up to you."
In New York City, the epicentre of the national coronavirus outbreak, the road to reopening continued Wednesday with another unprecedented shutdown.
The Governor had said one of his two greatest nightmares amid this crisis was healthcare workers, first responders and other key frontline staff saying they would decide to stay home, too. The other nightmare was not being able to stop the spread. New York has proven it can do the latter, Cuomo said.
 
Last Updated May 8, 2020, 12:42 PM IST