Clerics coerce Pakistani professor to denounce Darwin's Theory, assert that women are inferior to men (WATCH)
A college professor in Pakistan, Sher Ali, teaching Darwin's theory of evolution, has been compelled to disavow the scientific concept, raising concerns among academics. The incident has ignited debates about academic freedom and the role of religious authorities in the country's education system.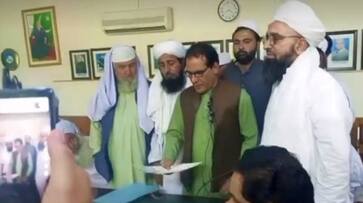 In Pakistan, a college professor, Sher Ali, teaching Darwin's theory of evolution, has been forced to denounce the scientific concept, sparking concerns among academics in the country. A video of the incident, which occurred at the Government Post Graduate College in Bannu, has gone viral on social media. In the video, Ali is surrounded by clerics, and he reads an apology dictated on a stamp paper.
The three-page note declares that any scientific or rational ideas contradicting Islamic Sharia, including Darwin's theory of evolution, are considered false. It also contains statements asserting the inferiority of women to men and restrictions on the mingling of the sexes.
This incident followed a speech by Ali on women's rights in Islam, given in response to protests against women not adhering to traditional Islamic dress codes. In the speech and his university lessons, Ali was accused by Pakistani clerics of spreading debauchery and speaking against Islam.
Ali defended his teaching materials, including Darwin's theory, by highlighting that he follows the curriculum set by the education board. He suggested that if there were issues with the content, scholars should pursue legal action rather than resorting to coercion.
Rafiullah Khan, a member of the Human Rights Commission of Pakistan's Bannu chapter, stated that Ali had clarified his stance on social media, emphasizing his responsibility to teach what was part of the curriculum. He encouraged those opposing his teachings to seek legal remedies and emphasized that he was being paid by the government for his role.
Many intellectuals criticized the video, pointing out that the stifling environment influenced by clerics is not limited to specific regions or provinces but has permeated throughout Pakistan. The incident has raised concerns about academic freedom and the influence of religious figures in educational institutions across the country.
Last Updated Oct 26, 2023, 12:45 PM IST