Chinese companies Alibaba and Baidu remove Israel as state from online maps amid Gaza conflict
Tech giants alter online maps, amid rising antisemitism on Chinese internet following the Israeli-Hamas war, as China's President supports Palestine.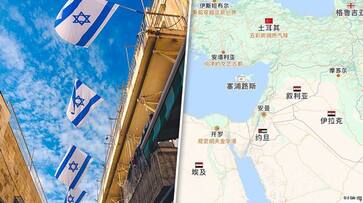 Alibaba and Baidu, two prominent Chinese tech companies, have reportedly made changes to their digital maps available online. These adjustments involve no longer using the official name of Israel on their maps. The Wall Street Journal initially reported this development, where both companies have chosen not to clearly identify Israel by name on their Chinese-language online maps.
"Baidu's Chinese language online maps demarcate the internationally recognised borders of Israel, as well as the Palestinian territories, plus key cities, but don't clearly identify the country by name," the report said.
On the altered maps, the internationally recognized borders of Israel and the Palestinian territories, as well as key cities in the region, are still marked. However, Israel's name is conspicuously absent. In contrast, even smaller nations like Luxembourg are labeled in their entirety. Alibaba and Baidu have not offered an official explanation for this change.
This shift in labeling coincides with an increase in antisemitism on the Chinese internet. The Chinese Communist Party closely monitors online activities in the country. Some influential Chinese nationalist commentators have expressed anti-Israel sentiments on social media platforms like 'Weibo.' These commentators have warned against pushing others into a corner, drawing parallels between historical events and the Israeli-Palestinian conflict.
Chinese media outlets have criticized the United States for its position on the Gaza conflict, accusing it of being on the "wrong side of history." Chinese President Xi Jinping has openly supported the Palestinian cause, stating at the Riyadh-Gulf-Chinese Summit for Cooperation and Development in Saudi Arabia that the historical injustice suffered by Palestinians should not continue.
There have been longstanding conspiracy theories regarding Jewish influence circulating on the Chinese internet. These theories suggest that organizations like Freemasonry covertly control the US government and global affairs. Some accounts affiliated with China's state-owned CCTV have alleged significant Jewish influence in US finance and politics, often citing Israel as a determining factor in American elections. It's important to note that some of these posts have been removed.
Last Updated Oct 31, 2023, 10:39 AM IST