Black life gasps for breath in US: Police brutality against this community has a long history
The latest ill-fated victim of racial crime in the US was 46-year-old African-American George Floyd. The black community is far too familiar with the police brutality that led to Floyd's death.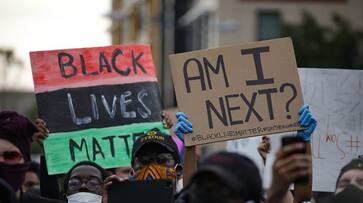 Bengaluru: 'Rang aur nasl, zaat aur mazhab/ Jo bhi ho aaadmi se kamtar hain…' (Colour and race, caste and religion…they are lesser important than human being come what may.) 
'Ponch kar ashq apni aankhon se…muskurao toh koi baat bane...' (Wipe those tears and smile…only then something will emerge)
'Nafraton ke jahan me hum ko…pyaar ki bastiyaan basaani hain' (We have to build bustees of love in this world of hatred.)
And, the latest heart-rending incident of racial crime and police brutality took place in a country, which claims to be the world's oldest democracy - the United States of America.
The place: Minneapolis in Minnesota (USA). An unarmed black man was handcuffed and pinned to the ground wreathing in pain. A white police officer kneeled over him, as he was pleading for help, gasping for breath. He was groaning, "Please, I can't breathe, don't kill me." Another officer was standing by and watching even as bystanders urged the officers to let him go. Another yelled, "Bro, you've got him down, let him breathe at least, man!"
Also read: COVID-19 in New York: Indians group up to serve, turn out to be messiahs for frontline warriors
Five minutes later, he ceased to move, turned silent and motionless as his head remained shoved against the pavement. An ambulance arrived to take him to Hennepin County Medical Center where he was declared dead.
The ill-fated person was 46-year-old African-American George Floyd. His only crime was that he was a black and was allegedly trying to use a $20 counterfeit bill. He lived in St Louis Park, a Minneapolis suburb. He grew up in Houston and was a high school sports star. He worked at a restaurant in Minneapolis. His death was captured on video and was later widely shared on social media. His death in police custody has sparked massive outrage across the United States. President Donald Trump termed it "total lack of leadership" in Minneapolis. The FBI is investigating the incident and four police officers have been fired.
Minneapolis Mayor Jacob Frey has said, "Being black in America should not be a death sentence. For five minutes we watched as a white police officer pressed his knee into the neck of a black man. When you hear someone calling for help, you are supposed to help. This officer failed in the most basic, human sense."
Minnesota Senator Amy Klobuchar urged a thorough outside investigation, saying, "Justice must be served for this man and his family, justice must be served for our community, justice must be served for our country."
Floyd's death shows how black people are subjected to excessive violence even when laws such as a 2016 "duty to intervene" policy exists. The countless deaths of black men and women is a form of "genocide," according to Benjamin Crump - a civil rights lawyer who has taken on cases relating to Martin, Brown, Rice, Arbery, and Taylor. He will now represent Floyd's family as well - and the killing of Floyd follows the same pattern of systematic racism. "How many 'while black' deaths will it take until the racial profiling and undervaluing of black lives by police finally ends?" Crump wrote in a statement on Floyd's death.
History of police brutality against the black community 
The black community is far too familiar with the police brutality that led to Floyd's death; there is no shortage of incidents involving law enforcement personnel and black people, who are often unarmed. Although they make up about 13% of the population, 23% of people killed by law enforcement personnel in 2019 were black, according to a Washington Post database.
Over the past seven years, there has been growing attention on police brutality, due to several high-profile cases: African-American Trayvon Martin, 17, was unarmed when he was shot in February 2012 after being reported as "suspicious" for simply visiting his dad's fiancee, who lived in a gated community. Neighbourhood watchman George Zimmerman was acquitted in the case. In the wake of his death came Black Lives Matter, a movement against the systematic violence and discrimination against the black population. Allegations of police brutality have been constantly highlighted since the start of the Black Lives Matter movement.
 
Protests continued as more black men continued to die at the hands of the police in 2014. Eric Garner - whose case closely resembles that of Floyd – said, "I can't breathe," 11 times as NYPD Officer Daniel Pantaleo put him in a chokehold after a confrontation over untaxed cigarettes. A month later, the death of unarmed black teenager Michael Brown sparked mass protests in Ferguson. And in November, 12-year-old Tamir Rice was playing with his toy pellet gun when he was shot dead seconds after officer Timothy Loehmann stepped out of his squad car.
Even in the past month, the black community has mourned the death of two people killed by both former and current law enforcement officials. In February, Ahmaud Arbery was chased and killed in Georgia by a former police detective and his son; it wasn't until after a graphic video documenting the shooting went viral this month that the accused were arrested. And in March, Breonna Taylor, a black woman in Kentucky, was fatally shot in her own apartment in Louisville by three white policemen for an investigation that she wasn't even involved in. Like Arbery, her case didn't gain national recognition until recently.
Last Updated May 30, 2020, 3:29 PM IST