Beirut blast: Over 50 killed, 2,500 injured; PM Modi 'shocked and saddened'
'Shocked and saddened by the large explosion in Beirut city leading to loss of life and property. Our thoughts and prayers are with the bereaved families and the injured,' PM Modi said reacting to the large explosion in Beirut which killed over 50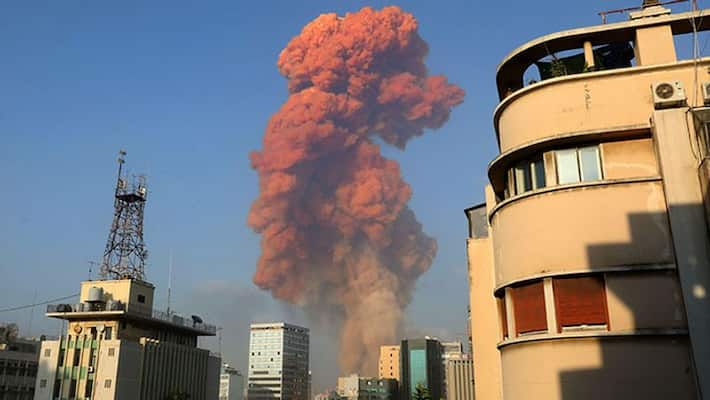 Beirut: A blast in the Lebanon capital Beirut on Tuesday evening (August 4) has left over 50 dead and 2,500 injured.
As the counting of the dead and injuries is still underway, the officials expect the toll to shoot up by the end of Wednesday.
Although there were rumours about bombing, Lebanese interior minister Mohammad Fahmi said that the explosive chemicals stored at Port of Beirut may have caused the explosions as per a media report.
"Customs' authorities must be asked about the reasons behind storing such chemical materials at the Port of Beirut," Fahmi was quoted as saying.
The blast reportedly damaged nearby buildings as well and many have vacated the places fearing collapse and infection due to thick black smoke hovering over the skies following the deadly blast.
Indian Prime Minister Narendra Modi said he was "shocked and saddened" by the large explosion. "Shocked and saddened by the large explosion in Beirut city leading to loss of life and property. Our thoughts and prayers are with the bereaved families and the injured," PM Modi said.
Meanwhile, declaring national mourning  for the blast victims today (August 5), Lebanese Prime Minister Hassan Diab has asked allied nations to help the country mitigate the situation.
Following this appeal, Iran first reached out to Lebanon and announced that the country will stand by Lebanon at this point in time.
A report attributed to Iranian foreign minister Mohammad Javad Zarif, said, Iran is ready to offer help to Lebanon after the huge blasts caused massive casualties and damages in Beirut.
The minister also took to Twitter and wrote, "Our thoughts and prayers are with the great and resilient people of Lebanon." and further added  "As always, Iran is fully prepared to render assistance in any way necessary."
In the end, he wrote, "Stay strong, Lebanon."
Expressing similar sentiments, Egyptian President Abdel-Fattah al-Sisi took to Facebook to express solidarity with Lebanon. "My sincere condolences and sympathy go to the government and people of Lebanon, over the tragic explosions that happened today in the Lebanese capital Beirut," Sisi wrote on his official Facebook page.
Turkey too expressed sorrow over the massive casualties and damages caused by the huge explosions in Lebanon.
Two Turkish citizens were slightly injured in the blasts, said the Turkish foreign ministry in a statement.
Last Updated Aug 5, 2020, 11:18 AM IST