Afghan women demand political, social inclusion in Taliban government during protest in Kabul
During the protest, a former government employee also expressed frustration with the Taliban and said that the government formed by the group will collapse if women are not included in decision making.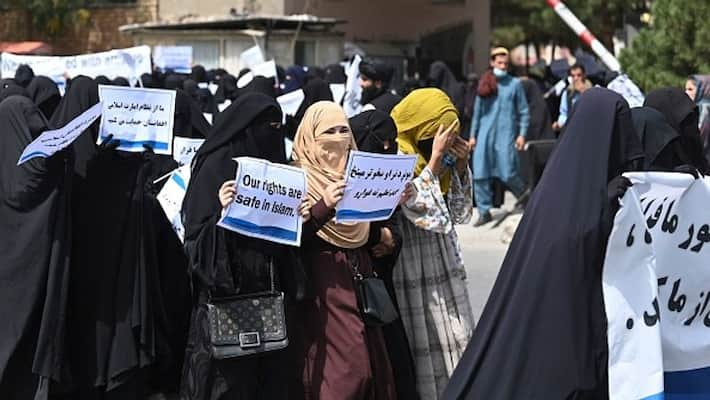 Kabul: Opposing the Taliban-led government's decision to bar women from political and social lives, dozens of Afghan women activists took to streets and held protests in Afghanistan demanding political and social inclusion.
Hundreds of women took to the streets of the national capital Kabul and demanded their inclusion in political and social decisions. While demonstrating against the Taliban regime, the women protestors sought female representation in the caretaker government.
The Afghan women told TOLO news that they would not stop resisting until their role in the new government was clarified by the all-men government. They said that there were a lot of differences between the Taliban's announcement and the ground reality that the women have been facing since they took over the country.
"Today, October 10, is World Women Solidarity Day with Afghan Women. And women from over 100 countries are due to protest in support of Afghan women," a protester said.
"The Taliban repeatedly say that women have the right to education, work and political inclusion in the government, and they should show it in practice," another protester said.
The Taliban have been continuously trying to portray a good image in front of the world while promising rights to women and minorities but the on-ground situation in Afghanistan shows that all these are mere words by the Taliban, ANI reported.
A former government employee who attended the Sunday protest told TOLO News that they were feeling frustrated at home and added the all-men Taliban government would collapse if women were excluded from the decision making. Despite announcing lakhs of promises to provide equal rights in education, jobs and other sectors by the Taliban-led Afghanistan government, media reports suggest that the terrorist group are planning to proffer Afghan women as second-class citizens.
Last Updated Oct 11, 2021, 4:03 PM IST