55 Chinese sailors died in submarine accident, says secret UK report
The UK report provides details of the incident, which occurred during a mission and led to the crew's fatal poisoning due to hypoxia. Despite international interest, China has dismissed the incident as false. The Type 093 submarines involved are part of China's naval modernization efforts.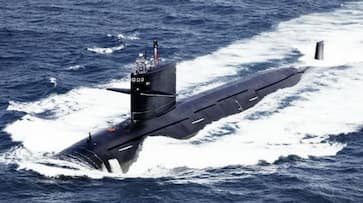 At least fifty-five Chinese sailors lost their lives in a submarine accident in the Yellow Sea. The reported incident took place in the waters near China's Shandong Province. According to a confidential report from the United Kingdom, this catastrophic event occurred due to a failure in the submarine's oxygen systems, leading to fatal poisoning of the crew members. 
Among the victims was Colonel Xue Yong-Peng, the captain of the Chinese PLA Navy submarine '093-417,' along with 21 other officers, as reported by the Daily Mail, citing the secret UK report.
The UK report provides a description of the incident, stating, "Intelligence reports suggest that on August 21st, a tragic accident occurred aboard the submarine during a mission in the Yellow Sea. The incident occurred at 08:12 local time and resulted in the devastating loss of 55 crew members, including 22 officers, 7 officer cadets, 9 petty officers, and 17 sailors. The cause of death appears to be hypoxia due to a malfunction in the submarine's oxygen system. The vessel struck a chain and anchor obstacle used by the Chinese Navy to trap US and allied submarines, leading to system failures that took six hours to repair and resurface the submarine. The crew members were poisoned due to a catastrophic failure in the onboard oxygen system.'
It's important to note that there is currently no independent verification of this alleged submarine incident available to the public. China has dismissed speculations about the event as "completely false." 
The Daily Mail approached the Royal Navy for comments on the UK report's details, but official sources declined to provide any statements or guidance. The UK report, which relies on defence intelligence, maintains a high level of secrecy. 
The Type 093 submarines, like the one involved in the incident, have been in operation for approximately 15 years and measure 351 feet in length, equipped with torpedoes. These submarines are known for their relatively low noise emissions and represent some of China's more modern naval assets.
These submarines are primarily used for anti-submarine warfare (ASW), anti-surface warfare (ASuW), and intelligence gathering. The deployment and modernization of these submarines are seen as part of China's broader efforts to assert itself in the South China Sea and the broader Indo-Pacific region. China has been working on the development of improved versions of the Type 093 submarines, such as the Type 093G, which may feature enhanced capabilities and technologies.
Last Updated Oct 4, 2023, 9:48 AM IST