'Remain vigilant, observe safety protocol': India issues advisory to its citizens amid Israel-Hamas war
The conflict stems from Israel's imposition of a crippling blockade on Gaza since 2007, following the Hamas militant group's rise to power. This blockade has led to several devastating wars between Palestinian militants and Israel.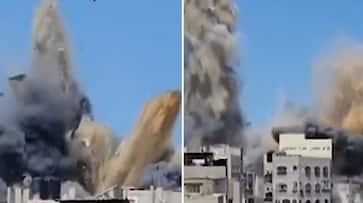 India on Saturday (Oct 7) issued an advisory to its nationals in conflict-torn Israel and asked them to remain vigilant and observe safety protocols. In a surprise attack claimed by the Islamist movement Hamas, Palestinian gunmen infiltrated areas of southern Israel, launching rocket barrages from the Gaza Strip on Saturday.
In his remarks at the outset, Israeli Prime Minister Benjamin Netanyahu said "We are at war" after Hamas conducted an unprecedented attack against Israel.
In the advisory, the embassy wrote, "In view of the current situation in Israel, all Indian nationals in Israel are requested to remain vigilant, and observe safety protocols as advised by local authorities. Please exercise caution, avoid unnecessary movement and stay close to safety shelters. For additional information, please see the Israeli Home Front Command website (https://www.oref.org.il/en) or their preparedness brochure. In case of emergency, please contact us at +97235226748, or leave a message at cons1.telaviva@mea.gov.in. The Embassy personnel remain at your disposal for any further guidance."
In response to a barrage of rocket attacks by the Palestinian armed group, Hamas, in southern Israel on Saturday morning, the Israeli Army launched 'Operation Iron Swords' in the Gaza strip hours after declaring a state of war. Israel Prime Minister Netanyahu has issued an Official Declaration of War, marking a major offensive against Hamas in the southern regions of Israel and along the Gaza Strip. Additionally, Israel has activated more than 10,000 Reservists to bolster the country's defense forces.
The Israel Air Force launched an attack with dozens of fighter jets targeting the Palestinian militant outfit Hamas in the Gaza Strip in several locations. The Israeli armed forces operation comes after Israeli Defence Minister Yoav Gallant stated, "Hamas has made a grave mistake this morning and launched a war against the State of Israel."
Last Updated Oct 7, 2023, 3:04 PM IST