Traffic halts as giant anaconda cross the road; watch viral video
Traffic on a busy road in Brazil stopped after the residents spotted a monstrous anaconda on the road. Viral video creeps out netizens.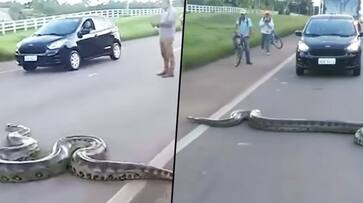 Finding wild creatures on the streets has become somewhat normal these days. Recently, one such incident emerged on social media. Yes, a giant anaconda was spotted crossing a busy road in Brazil. The video shows people halting traffic to allow the vast reptile to get to the other side.
The 10-feet-long anaconda can be seen casually crawling across the busy road. As many people witnessed the incident, the snake slithered over the partition wall in the middle of the road and escaped into the bushes on the other side. Commuters recorded the episode on their mobile phones.
This video was shared on Instagram by animalsventure. According to the caption, drivers had to stop their travel in Brazil to allow an anaconda to cross the road." After being shared online, the video has garnered over 418,000 views and is still counting. Netizens expressed their point of view in the comment section. A user wrote, "Happy to see humans helping animals survive", whereas another person commented, "Many thanks for not killing that beautiful snake" Watch the video.
Last Updated Aug 25, 2021, 10:34 AM IST