Stunning drone footage captures hundreds of stingrays swimming together; watch video
A mesmerising video of a school of stingrays swimming together in the ocean has emerged on social media.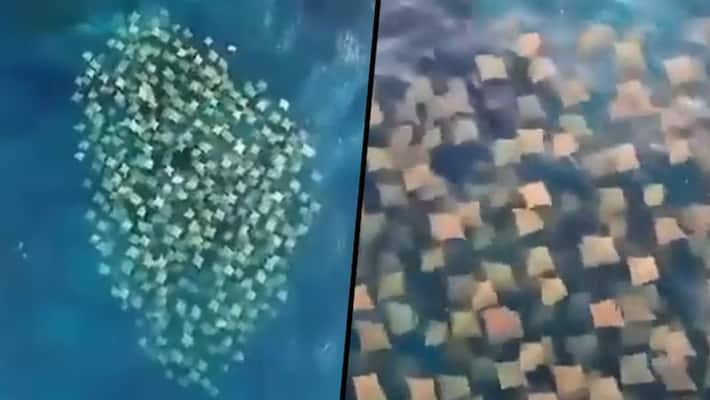 A drone flying over an ocean spotted many squares swimming in formation. When it zoomed closer, that was a school of stingrays travelling through the waters of the blue sea. Twitter user Buitengebieden shared this video on their handle with the caption, "Drone footage of a school of rays..." The 58-second video shows hundreds of stingrays swimming together. The beautiful sight mesmerised netizens.
After being shared online, the video has garnered over 178k views and 11.6k likes. Social media users expressed their opinion in the comments section. Several netizens also asked some queries about stingrays' this behaviour. A user shared one of his experiences and wrote, " I had a school of these swim past me in the Gulf of Mexico once. They swam by and touched me as they passed! I just stood there. It was beautiful. A little scary at first, but they really are gentle, graceful creatures." Another person commented. "They are balletic...balletetic? What is that word? Anyway, they are that. Beautiful beings." Take a look.
Last Updated Aug 28, 2021, 11:24 AM IST