Octopus changes colours while dreaming, watch mesmerising video
A video of an octopus changing colour from white to yellow and then swiftly changing to dark brown in its sleep has emerged on social media.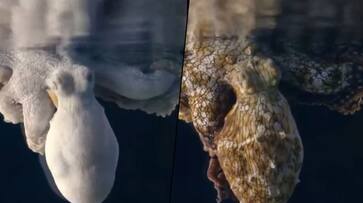 A mesmerising video of an octopus changing colours while dreaming has gone viral. The 20-second video was initially taken by the Public broadcast service (PBS) for its documentary. In the video, the octopus shifts its colours from white to yellow and then swiftly to dark brown. According to a biologist, the octopus changes its colours because it might be dreaming about eating its favourite cuisine at the bottom of the sea.
Recently Twitter user Buitengebieden shared this video with the caption, "An octopus changing colors in her sleep.." The clip has gained over 177k views. Netizens were amazed to witness the aforementioned video of a sleeping octopus changing colour in its sleep. Not just colours, the octopus is also shifting texture and size. Take a look.
Last Updated Aug 24, 2021, 12:32 PM IST