Mamata Banarjee to marry Socialism, yes it's happening down south in Tamil Nadu
A wedding in Salem in Tamil Nadu has become a craze in social media following the names of the groom and the bride. While the bride is named after West Bengal CM Mamata Banerjee, the groom is named Socialism. The wedding between the family will take place on Sunday.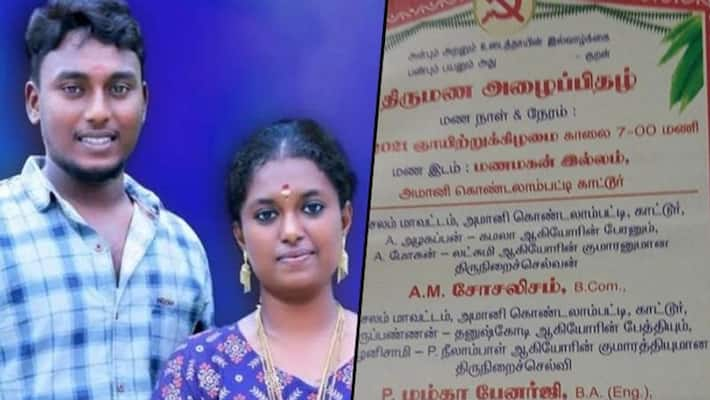 Marriage between two families in Salem in Tamil Nadu has become the talk of the town, after both bride-to-be and groom's name caught the attention of netizens. 
The groom from CPI party family background is named 'Socialism' while the girl is named after West Bengal CM Mamata Banerjee.
It is said that, Socialism's grandfather was impressed with communism, and was obsessed with words like Communism, Leninism, Socialism and Marxism and others and when the soviet movement happened, the same likings were imbibed by Mohan, 52, groom's father who is a district secretary of CPI in Salem.
"From the age of 18, I started participating in protests organised by the CPI. Later, I became a full-time worker of the CPI. Due to the Soviet Union breaking up into many countries, many said communism is dead. This made me upset and even before my marriage I decided to name my sons or daughters in a way that reflects their ideology. Three sons were born to me and I named them Communism, Leninism and Socialism respectively. Most of our comrades named their sons Lenin or Marx. But I don't know whether anyone has been named Socialism," Mohan was quoted as saying.
Mohan named his elder son Communism, a lawyer. His second son is Leninism and the third son, Socialism, who both are into silver ornament making business.
As a mark of respect to Karl Marx, Mohan requested his second son Leninsim to name his son after Marx and hence, Mohan's grandson is Marxsim. 
The bride, who happens to be a distant relative, is affiliated to Congress party and when Bengal leader Mamata Banerjee was in Congress and was a recognised for her fighting spirit two decades ago, the family named their one of the daughter after West Bengal leader and named their daughter as 'Mamata Banarjee'. 
As this news spread like a wildfire both the families have been getting calls non stop.
"We are arranging a simple marriage in our home this Sunday and the CPI state secretary R Mutharasan will also be present. I don't know who circulated the marriage invitation on social media. As phone numbers are also printed in it, hundreds of people are calling daily to express their wishes. We will die one day, but these names which reflect our ideology will live forever," A report quoted Mohan as saying.
Last Updated Jun 11, 2021, 7:01 PM IST