From Yogi Adityanath to Dr Harsh Vardhan: Absurdity and bizarre claims by BJP leaders amid coronavirus crisis
Since the beginning of Covid pandemic in 2020 and till date, leaders especially with the ruling BJP both at different state and central level had pulled a joke about themselves. From batting for cow dung, urine as treatment and prevention to pitching for mass gathering and making an irresponsible statement about the shortage of vaccine, BJP leaders have said it out all openly. From Union health minister Dr Harsh Vardhan to DV Sadasanda Gowda and Himanta Biswa Sarma, all have made such statements.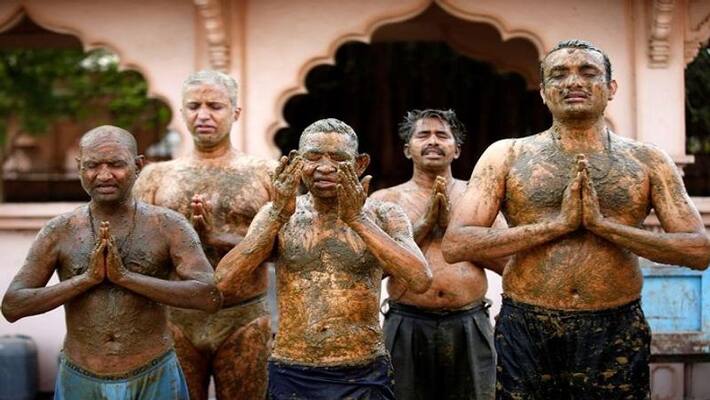 When the pandemic entered India in March 2020, leaders took it lightly and from MLAs to CMs made irresponsible statements. A year gone and the situation has now gone from bad to worse but our leaders are still seen making irresponsible comments.
Yoga and beat mental stress to prevent Covid: UP CM Yogi Adithyanath
Beginning with UP CM Yogi Adithyanath who was speaking at a public function, allegedly said Yoga and fit mind can be a solution to keep coronavirus at bay. In a video the UP CM can be heard saying if people overcome mental stress, then he or she will not suffer from blood pressure, heart attack, kidney ailment, liver ailment and he/she will not be infected with coronavirus.
Burn cow dung cake and remain corona free: Assam BJP leader Suman Priya
If this was not enough, then Hajo MLA Suman Haripriya came up with a bizarre claim of using cow dung cake and cow urine as a cure for coronavirus. She can be heard claiming that many diseases including cancer can be cured with cow urine. The leader further added that in ancient times sages used to offer cow dung cakes in fire and used to purify the air, she suggested doing the same to contain airborne coronavirus by burning cow dung cakes.
I also consume cow urine: Dilip Ghosh
After a local leader, Narayan Chatterjee held a Gau mutra event in Kolkata which lead to health complications of public who were fed cow urine as a preventive measure against Covid was arrested, he however, found support for his claims from Bengal BJP unit chief Dilip Ghosh as he defended Chatterjee saying there is nothing wrong in drinking cow urine and said that he also consumes cow urine.
Covid is already on it's way out: Dr Harsh Vardhan
Now that the pandemic is once again in full swing, in March this year, Union Health Minister Dr Harsh Vardhan had openly claimed that there is no threat from Covid and said ,"Covid is already on it's way out. Keep the politics out of the war against Covid."  
The Union Health Minister was attacking former PM Manmohan Singh who had asked the government to come out with a plan to deal with the coronavirus crisis.
There is no Covid in Assam: Himanta Biswa Sarma
Himanta Biswa Sarma may now be having the last laugh as he has successfully occupied CM's post by edging past Sarbananada Sonawal, but his statement during the election campaign will always stand as evidence of how ignorant the North East man was.
On April 4, the BJP leader was then holding health portfolio and refused to wear a mask and was seen defending his move. He can be heard telling that, "In the context of Assam today (April 4) there is no Covid and if there are cases I will ask people to wear a mask. I am also going to have a grand Bihu (harvest festival) and I believe that Covid will not happen," Sarma can be heard telling them.
When people get old, they have to die: Prem Singh, MP BJP Minister
Joining the absurdity club, Prem Singh Patel, a minister in Madhya Pradesh CM Shivraj Singh Chauah government, became national news after his insensitive remarks were flashed on TV screens.
At a time positive cases and deaths were mounting, Prem Singh Patel said, "Nobody can stop these deaths. Everyone is talking about cooperation for protection from corona...You said that many people are dying every day. When people get old, they have to die."
Kumbh Mela: Tirath Singh Rawat, CM Uttarakhand
BJP CM of Uttarakhand, Tirath Singh Rawat is one more name that will be remembered for a long time. Just a few months old in office, he left the state in shock with his statements.
When pandemic was at its peak and Covid protocols should have been followed, being a CM he batted for Kumbh Mela and also Devoteesakh of Sadhus and devotees gathering. "Devotees stay close to Ganga and are getting 'Maa Ganga's' blessing. Don't compare this to the Tabligh event," Rawat has said then.
Cow urine is good for heart and can prevent Covid: UP MLA
India's crime destination, Uttar Pradesh also has its share in this list. BJP MLA from Ballia, Surendra Singh's video claiming mixing cow urine with water and consuming and would cure corona, went viral and became a meme fest on social media. The MLA said consumption of cow urine mixed with water is the cure of many ailments including heart attack and coronavirus.
Friend of the Covid virus: Trivendra Singh Rawat
The former Uttrakhand CM Trivendra Singh Rawat is also no different when it comes to making insensitive remarks.
The BJP leader said, "The virus is a living organism and it has the right to live. We are also living organisms and think we are superior and are behind this virus but this virus is mutating now and wants to survive."
When Covid took a communal twist
BJP MLA Ravi Subramanya, the uncle of BJP MP Tejasvi Surya.
Recently when BJP leaders raided Covid war room to seek details about the alleged bed-blocking scam in BBMP and names of only 16 Muslim health workers were taken by Tejasvi Surya, Ravi Subramanya who questioned the woman nodal officer, Tulasi Maddineni, can be heard saying, "Are you hiring people for Madrasa or Corporation?"  
Following this action, the leaders received severe criticism on social media especially after the police found no evidence against all the Muslim staff working in war room.
Katti and Eshwarappa tongue in cheek business hurts Kannadigas
Karnataka Minister Umesh Katti and KE Eshwarappa could give competition to each other in making such tongue in cheek statements. Recently when a farmer demanded extra rice to an individual under a government scheme during a pandemic, Katti said, "Go and die". The Minister did have remorse and defended what he said.
Two days later, Panchayat Raj Minister KS Eshwarappa while reacting to the Opposition's demand of Rs 10,000 as financial assistance to each BPL family during lockdown and pandemic, the Minister said, "We don't print notes."
Should we hang ourselves: DV Sadananda Gowda
Union Minister DV Sadananda Gowda, always known as a smiling guy, has now come across a tough one due to oxygen and vaccine crises. While addressing a press, Gowda lost his cool at the press who cornered the government over Covid mismanagement. Gowda said,"Let's assume, so if the court says by tomorrow you have to vaccinate so many and if we fail, should we hang ourselves." This statement went viral and dented the party's image.
Last Updated May 16, 2021, 6:28 PM IST