Exclusive: 'If G-23 leaders are acting on behalf of BJP, that cannot be tolerated'
Asianet Newsable's Yacoob caught up with All India Congress Committee Secretary and Karnataka observer Madhu Yakshi Goud to deep-dive into the turmoil within the Congress.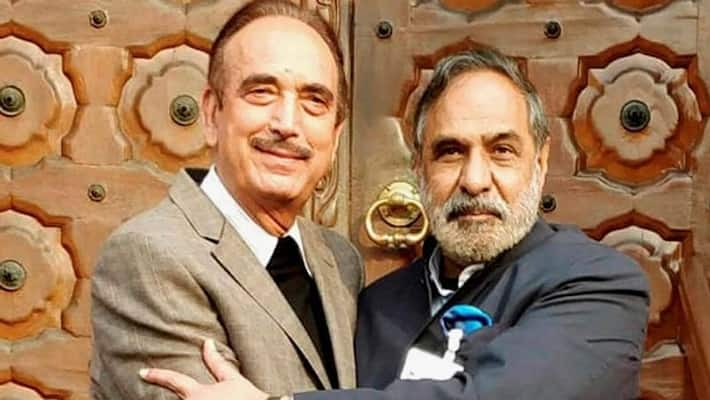 The internal rumblings within the Congress both the central as well as state-level have been making headlines. Back to back electoral losses, internal differences and calls for systemic changes -- the Grand Old Party is in today a state of flux.
Asianet Newsable's Yacoob caught up with All India Congress Committee Secretary and Karnataka observer, Madhu Yakshi Goud to deep-dive into the internal turmoil within the Congress.
The rift between two of the senior-most leaders DK Shivakumar and Siddaramiah must be embarrassing for the party. How are you looking to pacify them?
I met both of them. It was a small issue. Be it Mysuru (Mayoral polls) or any other thing that was resolved. As a result, both of them participated in the March 3 meet (Congress rally to strengthen the party). It is not very problematic. I could see both of them understand each other and also have recognized the need for working together. 
This (Karnataka) is one state where Congress has the potential to come back to power. The high command has the highest regards for both of them. Former chief minister (Siddaramaiah) and Shivakumar (KPCC President) have got the capacity, and are strengthening the party till now and after meeting both of them have concluded there is no much difference between them and whatever minor issues were there, it has been resolved.
The rift between the two leaders might have an impact on Congress in the forthcoming by-elections.
I don't think this (minor differences) would have any impact. In a few states and even my own state Telangana or other states, I have seen leaders fighting to an extent where they go to defeat each other. But in Karnataka, one thing I could see there may be some ego clashes or some differences, they ignore it and fight together.
Veerappa Moily, Mallikarjun Kharge, KH Muniyappa, BK Hari Prasad, Rehman Khan, Dr G Parameshwara... all senior leaders have their own opinion, arguments or disagreement but when it comes to the party's interest, they bury their differences and work together. This is not seen in other states. 
See for example in Madhya Pradesh, due to the differences between Jyotiraditya Scindia, Digvijaya Singh and Kamal Nath, the government collapsed. I don't see that level of differences in Karnataka. When it comes to the party's interest, ultimately all get united. They may have some issues and differences during the distribution of tickets to their own set of followers but when it comes to facing an election, they stand united.
Section of Muslim leaders in Congress is unhappy with Siddaramaiah for giving too much importance to MLA Zameer Ahmed Khan. Speculation is that Zameer has been lobbying with Siddaramaiah to rebel against Tanvir Sait using the defeat in the Mayoral poll. Your views?
These are just rumours and speculation. Saying that Siddaramaiah encouraged people who come from JD-S and ignoring Congress leaders, I didn't find any truth in it. Even before I could come here (as an AICC observer) people told me that he is the most accommodative leader. I don't see him favouring anyone. When I came to resolve the Mysuru Mayoral issue, Zameer Ahmed Khan was nowhere involved. I met DK Shivakumar, Siddaramaiah and Tanveer Sait (Mysuru MLA). Then I and Dhruvanarayana (former MP and Mysuru in-charge) met all corporators and Ex MLA's. I did not see any involvement of Zameer Ahmed Khan. So these are just rumours being spread about he (Siddaramaiah) giving too much importance to some leaders. Every leader has their own set of followers.
I have seen Siddaramaiah. When a contrary opinion is being expressed during seat selection, he immediately accepted it even though it was going against his own followers (leaders). So I don't find any truth in the allegations.
Congress has been facing internal rebellion at the state and central levels. How has the party high command addressed the issues raised by the G-23 leaders?
Any genuine demand and suggestions will be accepted. The rich experience of G-23 leaders has been recognised. But if they are acting on behalf of BJP's interest, that cannot be tolerated. Their suggested election cannot be kept, it's a unanimous decision to postpone the election (to elect Congress president), which is a known fact. Now coming to seniors making statements praising Narendra Modi when Rahul Gandhi is fighting tooth and nail against BJP's vulnerable policies, it is only creating doubts in Congress cadres and people across the country. Whether they are genuinely asking these questions? (about internal democracy). Congress is a democratic party. None of the BJP leaders have the right to question us. G-23 leaders, no matter how senior they may be, if they are acting on behalf of BJP, that cannot be tolerated.
Will there ever be a non-Gandhi president of the Congress party?
Rahul Gandhi has already said it and openly invited the leaders from the Congress party when he resigned (from part's president post), that anyone can become (president). He made a statement that a non-Gandhi will become (president). 
In the meeting attended by Priyanka Gandhi, AK Anthony, Manmohan Singh (Ex-PM) all the secretaries, general secretaries, and EC members who attended that meeting, it was decided to request Sonia Gandhi to be interim president for a temporary period. 
Party and cadre who have elected Sonia Gandhi as interim president and the party across every state feel that Rahul Gandhi should take over (as president). There is no force upon the cadres in this matter.
Rahul Gandhi said that imposing an Emergency in 1977 was a major mistake. What is your view on that?
As much as I know Rahul Gandhi is highly democratic. I have known him since 2004 after I first got elected, travelled across the country and I had a close interaction with him.
I have seen very forthcoming for a different opinion. Even when you disagree with him he will welcome you. He does not get angry for not agreeing with his point of view. He is a highly democratic leader. Rather than his stand or critical views about the emergency, earlier Rajivji (Rajiv Gandhi) and Sonia Gandhi have expressed an opinion and that should be rested there. I don't know why BJP rakes it up. 
The situation is worse now than the emergency in India. In 50-odd years of Congress, the party made sure that the ultimate resort to seeking justice is the supreme court when citizens have a difference of opinion on the government of India. 
But during the five years of the Modi government, the justices of the supreme court are going to people to seek justice. So that's the difference of governance between Congress and Modi mark of BJP government. 
Vajpayee was a different BJP leader, but Modi made sure that every institution is controlled; investigation (agencies) are made pawns in his hand. He also influences the Supreme Court of India. So this is the worst form of government and judges are coming to people seeking justice rather being available to the people to give that (justice).
Last Updated Mar 6, 2021, 2:57 PM IST