ISL 2023-24: Missed chances haunt Bengaluru FC: Coach Simon Grayson reflects on 1-1 draw
Bengaluru FC's head coach, Simon Grayson, laments the missed opportunities in their 1-1 draw against Hyderabad FC in the Indian Super League (ISL).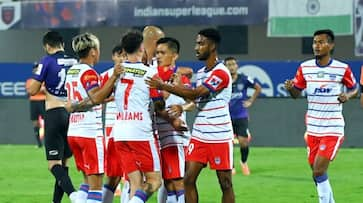 In a 1-1 draw against Hyderabad FC, Bengaluru FC's head coach, Simon Grayson, expressed his regret over missed opportunities as his team secured their first away point of the Indian Super League (ISL) season at the GMC Balayogi Stadium in Hyderabad. Mohammed Yasir's first-half goal was canceled out by Ryan Williams in the second half, resulting in both teams sharing the spoils. Grayson acknowledged that both sides had chances to clinch victory. He remarked during the post-match press conference, "From our perspective, we should have been a bit more ruthless when we got the opportunities." He also noted that Hyderabad FC had their share of free opportunities that required improved defensive play.
Grayson was critical of his team's first-half performance, which allowed the hosts to take the lead. He attributed the lethargic start to the quick turnaround and traveling but also acknowledged that his team struggled to adapt to Hyderabad FC's system. Despite this, they created some promising opportunities. Grayson was, however, pleased with the second-half improvement following four changes at halftime. He mentioned that the team passed the ball better, displayed more energy, and coped better with their opponent's system. Nevertheless, the decisive goal eluded them, leaving some golden opportunities untaken.
Ryan Williams, who scored his second goal in as many matches, received praise from Grayson, who expressed satisfaction with the player's performance. Grayson highlighted Williams' quality and energy, emphasizing his role in scoring goals for the team.
Also Read: ISL 2023-24: Des Buckingham proud of Mumbai City's comeback win against Punjab FC; WATCH highlights
Last Updated Nov 5, 2023, 4:54 PM IST