Colombian rebels seek security assurances in the release of Luis Diaz's father
The National Liberation Army (ELN) rebels in Colombia demand "security guarantees" as a condition for releasing the kidnapped father of soccer sensation Luis Diaz.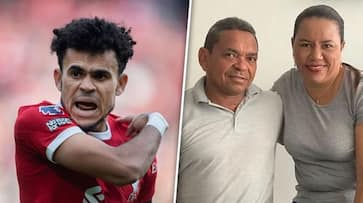 The group of Colombian kidnappers acknowledges the distress of Luis Diaz's family but insists on the necessity of security assurances to facilitate the liberation operation. Colombian insurgents have stipulated the requirement for "security assurances" before they will release the father of soccer star Luis Diaz. According to a report by the BBC, the National Liberation Army (ELN) has stated that the ongoing military and police search efforts "will impede the release and escalate the associated risks." Luis Manuel Diaz has been held captive since October 28 when he was forcibly abducted, along with his wife, in Barrancas, Colombia. While his wife was released on the same day, Mr. Diaz remains in the custody of the guerrilla group.
In response to Mr. Diaz's abduction, the Colombian police initiated an extensive search operation, even deploying helicopters in their quest to locate the soccer star's father.
ELN has expressed its intention to release Luis Diaz's father "as expeditiously as possible." However, in a statement attributed to Commander Jose Manuel Martinez Quiroz, the group emphasized that the current scale of the Colombian authorities' search operation is hampering this process, as reported by the BBC and local media.
"We are making earnest efforts to prevent clashes with government forces. The area remains under military presence, with ongoing flyovers, troop deployments, broadcasts, and rewards being offered as part of an extensive search operation," the statement elaborated.
"This situation is hindering the prompt and secure execution of the release plan, ensuring Mr. Luis Manuel Diaz's safety. If operations persist in the area, it will delay the release and heighten the associated risks," the statement warned.
The group also expressed an understanding of the distress faced by Mr. Diaz's family but emphasized their need for "security assurances to facilitate the liberation operation."
Meanwhile, after scoring on his return to Liverpool, the Colombian international made a plea to the guerrilla group to release his father."
Last Updated Nov 7, 2023, 11:03 PM IST