Asian Games 2023: Teenage shooters Palak Gulia and Esha Singh's gold-silver feat marks historic day for India
Teenage Indian shooters Palak Gulia and Esha Singh achieve a gold-silver finish in the 10m air pistol event at the Asian Games 2023, while Indian marksmen dominate the 50m rifle arena, securing multiple medals and setting world records.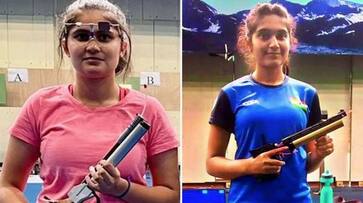 In a remarkable display of skill, two teenage shooters, Palak Gulia and Esha Singh, delivered a stellar performance in the 10m air pistol event for India at the Asian Games 2023 in Hangzhou, China. On this memorable Friday, they secured a gold-silver finish, setting the shooting range ablaze. Their exceptional efforts added two more medals to India's tally in the sport, bringing the total to 17, including six gold medals.
Pakistan's Talat Kishmala also exhibited a commendable performance and settled for a bronze medal after giving Esha a tough fight.
Palak Gulia's Remarkable Victory
This achievement marked a significant milestone in Palak Gulia's budding career. Just last year, she entered the shooting scene, and now, she has clinched her first major individual medal in an international competition. In the finals, Palak scored an impressive 242.1 points, setting a new Asian Games record and securing the gold medal.
Esha Singh's Silver Streak
Esha Singh, on the other hand, had already won an individual silver medal in the 25m pistol event earlier in the week. Additionally, she was part of the triumphant trio that secured the 10m air pistol team silver, along with Palak and Divya TS, earlier on the same day. In the 10m air pistol event, Esha settled for the silver medal with a score of 239.7 points.
Indian Marksmen Dominate in 50m Rifle
The success of Indian marksmen extended to the 50m rifle event as well. The men's 3-positions team, consisting of Aishwary Pratap Singh Tomar (591), Swapnil Kusale (591), and Akhil Sheoran (587), achieved a remarkable feat by overcoming the challenge from China. They secured the top podium finish with a world record score of 1769 points.
Hosts China trailed by six points, accumulating 1763 points, while South Korea finished a distant third with 1748 points. The Indian trio shattered the world record by a significant eight-point margin.
Aishwary and Swapnil's Exceptional Performance
Aishwary Pratap Singh Tomar and Swapnil Kusale not only contributed to the team's success but also excelled individually. Both shooters qualified for the finals and, remarkably, secured the first and second positions after the qualification round, a remarkable feat in a sport typically dominated by the Chinese at the Asian level.
Despite finishing fifth in qualification, Akhil Sheoran missed out on the individual finals, as only two shooters per country are allowed in the medal round.
Swapnil, a prominent medal prospect for the upcoming Olympic Games in Paris, displayed exceptional form by setting a qualification Asian and Asian Games record with a superb score of 591.
Aishwary also achieved an identical score to Swapnil's and secured a spot in the finals, ranking second due to having fewer shots closer to the bull's eye (inner-10s). Swapnil had 33 'inner-10s,' while Aishwary had 27.
Esha's Leadership in Women's 10m Air Pistol
Esha Singh continued to excel as she led the Indian women's 10m air pistol team to a silver medal. The team, comprising Esha (579), Palak (577), and Divya TS (575), accumulated a total of 1731 points, securing the silver medal. China claimed the gold with a total of 1736 points, setting a new Asian Games record. Chinese Taipei secured the bronze with a total score of 1723 points.
In team events, the scores in the qualification round determine the medalists, while the top eight individual shooters move on to compete for individual glory.
Esha had already clinched a silver medal in the women's individual 25m pistol event earlier in the week, adding to her impressive list of achievements. Additionally, the trio of Manu Bhaker, Esha, and Rhythm Sangwan had secured a gold medal in the women's 25m pistol team event on the same day.
Last Updated Sep 29, 2023, 10:42 AM IST