When in Bahulashtami? Know the date and rituals to be followed
Bahulashtami, also known as Ahoi Ashtami falls on the eighth day (Ashtami) of the dark fortnight (Krishna Paksha) in the Hindu month of Kartik, which typically falls in October or November.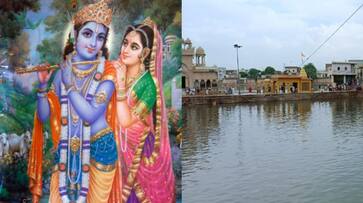 A lovely pastime or Lila, Bahulastami, tells the story of the cow Bahula seeking refuge from Krishna. The deities of a cow and her calf, a brahmana, a tiger, and Krishna reside in Vrindavan on the banks of Krishna Kunda. These depictions serve to remind pilgrims of the lovely pastime of Bahula. "Bahulashtami" is derived from "bahula" meaning "cow," and "ashtami" signifying the eighth day.
The beautiful 'Radha Kund' (the pond created by Srimati Radharani) also appeared on this day.
Bahulashtami Date:
The auspicious Bahulashtami falls on November 5 this year, which is the eighth day of the waning phase of the moon in the month of Kartik.
Rituals:
At midnight on this day, which is said to be when Radha Kunda appeared, people celebrate by taking a dip in the sacred waters. Thousands of devotees flock along Vrindavan's Radha Kunda banks during this time. In addition to presents and offerings such as water, milk, fruits, candies, garlands, lamps, and money, the gathered devotees also donate their bodies, minds, and souls. They honour Sri Radha Kunda, who is identical to Srimati Radhika Herself when they unite in prayer. 
The day is also known as Bahula Ashtami and Ahoi Ashtami.
Significance: 
On Kartik Krishna Paksha Ashtami, it is widely believed that a holy dip in the Radha Kund may facilitate childbearing for childless couples. Couples having trouble getting conceived come here to seek Radharani's blessings. Couples stand in the pond and perform puja. They provide the well-known Petha or white raw pumpkin. After being adorned with red cloth, it is presented. Locals refer to the offering as "Kushmanda."
After praying here, couples who were fortunate enough to become parents also give offerings and take the holy dip as a sign of gratitude for their good fortune.
 
Last Updated Nov 3, 2023, 3:20 PM IST