Sanketi Brahmins sacrifice animals during ritual in Mattur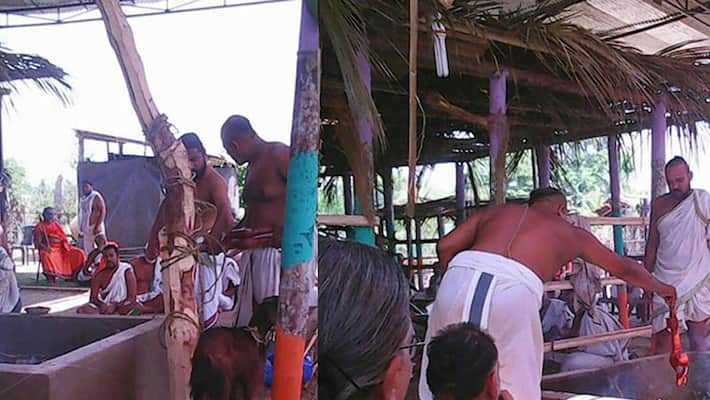 The Karnataka High Court's has banned animal sacrifice in public, however, according to a report by Suvarna News, a Somayaga performed by Sanketi Brahmins in Mattur, between 22 to 27 April, witnessed animal sacrifice during the ritual. 
This ritual of animal sacrifice was arranged at Srikanthapur, at the outskirts of Mattur, popularly known as the village of Sanskrit.
According to witnesses, Sanketi Brahmin priests sacrificed a goat at the alter and threw each part of the goat into the fire. The goat's meat was later served as Prasadam.
Reports also claim that the priests consumed 'Somarasa' (Toddy/Arrack) as a part of the ritual.
Around 17 priests across Karnataka, Tamil Nadu and Andhra Pradesh were invited for this Yajna.
But many Sanketi Brahmins have also opposed this ritual.
The Somayaga, devotees say, is performed in order to please the gods and for the welfare of the world at large. But some locals claim the ritual is merely a rouse by which some politicians try to gain favour; they sponsor around Rs 50 lakh for these rituals.
The Late Matturu Krishnamurti (ex-chairman of Bhartiya Vidya Bhavan) and many others had opposed this superstitious ritual.
Last Updated Mar 31, 2018, 6:54 PM IST