Going by the latest developments, TN is positive on an ordinance on Jallikattu
After Supreme Court's refusal the onus of deciding on Jallikattu lies with the Madras HC
Even if Jallikattu (Bull) is allowed in Tamil Nadu holding Fox Jallikattu will still be illegal
The Forest officers at Chinnamanaickenpalayam in Salem have given permission for the residents to conduct Fox Jallikattu, which was banned three years ago.
As the theory goes, most of the times when the law becomes stricter, people find a way to break it. In a similar case, when most people of Tamil Nadu are staging a protest on the Marina beach, demanding for a lift on the ban on Jallikattu, a village in Salem just conducted the sport, that too with the permission from the forest officer.
The rules say that foxes cannot be used during the festivals. Violators of this rule are bound to face seven years of imprisonment and ₹25,000 fine. But the event was a common occurrence during the Kaanum Pongal, every year in Tamil Nadu, when a trap was laid for the foxes inside the forest and the one caught in the net was taken out on parade on the main streets of the village.
Currently, eight persons are arrested for conducting Fox Jallikattu in various parts of Salem and four villages have been fined ₹25,000 each.
Waking up to the sight of the fox is also one among the various beliefs, and the fox was taken out on parade in the wee hours of the morning for this reason. But off late, as Jallikattu is banned, people started tying the leg of the fox and made it reach the finish line as people tried to stop it. To ensure the safety of people the mouth of the Fox was tied with a cloth.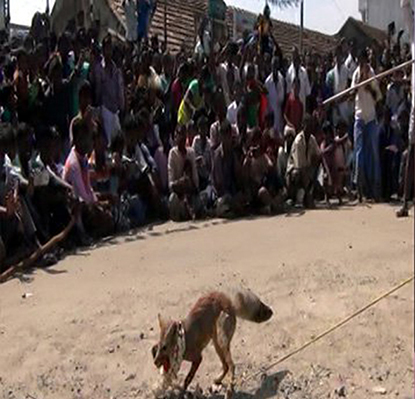 What about the safety of the fox? The residents say that the fox was left inside the forest, after the event. According to the residents, the fox, caught from the forest is brought in front of the temple, worshipped, taken around the village and made to play Jallikattu with one leg tied and its mouth too closed with a cloth.
With recent developments, Tamil Nadu is positive on issuing an ordinance in favour of the Jallikattu sport. Thus, when the ban on Jallikattu is lifted, a ban on Fox Jallikattu will remain because it was banned as the Fox comes under Wildlife Protection Act. When the state did not care about the Supreme Court's direction, will the direction of the State Forest Department taken seriously?
Clearly, animals have no say in Tamil Nadu!