Top 3 Instant Games | Newly Launched on Yolo247
Yolo247 introduces modern classic, Instant Games. Explore the top 3 games newly launched on Yolo247, a gaming platform for both beginners and professionals.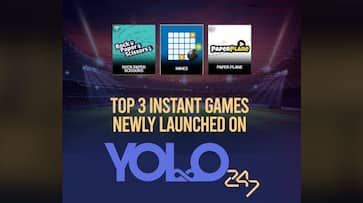 Yolo247, a leading online gaming platform, is thrilled to announce the launch of many Instant games. These are a fusion of retro games and a modern interface. Top examples are Rock Paper Scissors, Paper Plane, and Mines. With the introduction of these games, Yolo247 aims to provide players with a unique, enjoyable & rewarding experience. 
Yolo247's launch of Instant Games category is a step towards providing an enriched gaming experience. By integrating these games, players can relive the ultimate excitement. Whether you're new to these games or looking to play them online, these games will surely provide endless entertainment.
#1 Online Instant Game | Rock Paper Scissors
The classic game of Rock Paper Scissors gets a modern twist at Yolo247. This simple yet exciting game brings back memories of childhood. 
This instant game requires players to choose one of the three options - Rock, Paper, or Scissors. 
The game's objective is to predict the opponent's move and become the winner. 
With the simple gameplay and exciting rewards, the game has become a timeless choice. 
#2 – Mines Game
The 1990s saw many people enjoying Mine games, and Yolo247 brings that excitement back through the Mines online game. 
The game's goal is to reveal the stars while avoiding mines. 
With each revealed star, players can enjoy increased multipliers. Mines is a game that involves players' logical thinking, providing an immersive experience.
#3 - Paper Plane Game
Remember those days when folding a paper plane and flying it in the air was fun? Yolo247's Paper Plane brings back the same fun while offering the opportunity to win big. 
The game's objective is to predict the distance the paper plane will fly. 
With impressive graphics and engaging gameplay, the game can bring joy to your life. 
Aviator & its Popularity in India 
Try out Aviator, which is the most popular among all the instant games. When it comes to online crash games, Aviator on Yolo247 has a massive fan base. Get high odds and higher profits on Yolo247. The bet amount is low, while the profit margin is high. Play Online Aviator now! 
You can get 400% Welcome Bonus to play these games and enjoy 5% Refill Offer every time you redeposit. 
Other Popular Instant Games on Yolo247
Besides these three modern classic games from the 1990s, Yolo247 offers a variety of online instant games, which include - Aviator, JetX, CricketX, Archeo, Comet Crash, Dare Devil, Gold Rush, Jungle Gems, Monkey Bizniz, Plinko, Magic Numbers, Taxi Ride, Street Dice, Soccer Mania, Dice, Goal, Hi Lo, Keno, Mini Roulette, JetX 3, Plinko, Cappadocia, FootballX, Balloon, PlinkoX, and more. 
About Yolo247 
Yolo247 is a leading online gaming platform that offers a wide range of games, sports options, and more. With a commitment to innovation and user satisfaction, Yolo247 launched these new games, which will rekindle our gaming past. 
For those who love sports, even sports betting option is also available for all the matches. For World Cup and cricket tournaments, you have special promotions available on the platform. 
You can play through the website or the Yolo247 App. 24*7 customer support is always available for instant assistance. Go Beyond Games with Yolo247.
Last Updated Oct 14, 2023, 12:38 PM IST