Mumbai's Budget Fertility Centre highlights The Emotional Toll of IVF on Couples
Couples experience emotional and physical burdens when they undergo an IVF cycle. Most of the time, despite being well-adjusted to each other before the IVF treatment, the couple express high levels of stress and anxiety during the treatment, especially when waiting for its outcome.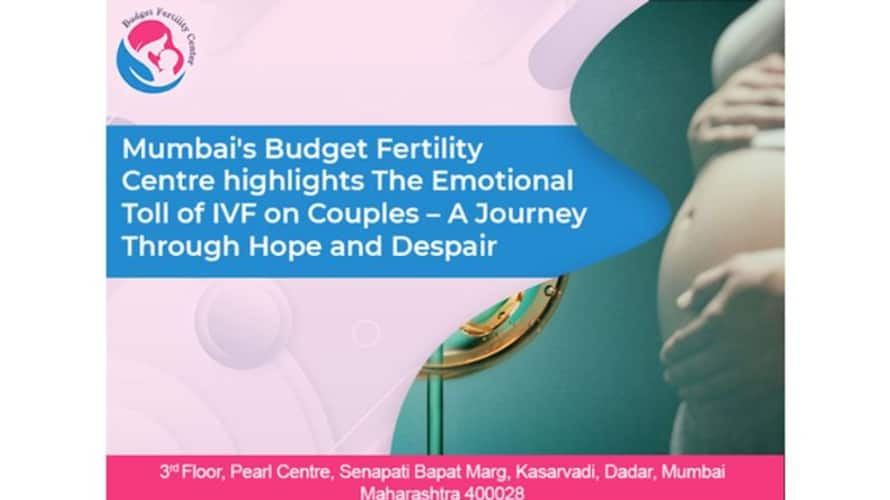 The journey of pregnancy followed by parenthood involves a time frame, viz. trying for a baby, opting for fertility testing and assisted reproduction techniques to conceive, followed by the actual IVF and other related procedures and finally, the arrival of the baby. During each phase, the couples undergo varying bundles of emotion which need to take care of each other with care and suitable support. 
Dr. Hrishikesh Pai, one of the leading gynaecologist in mumbai and Founder-Director of Budget Fertility Centre states, 'Mental health does affect the outcome of the IVF cycle. Across my three decades of practice, I have witnessed emotional distress and trauma associated with IVF and its outcome. However, I wish to add that positive thinking, relaxation training counselling and allied support help to a great extent and improve the chances of success in the IVF cycle. 
Most of them have expressed depression, and high anxiety levels, which increase further in case of an unsuccessful IVF cycle. These couples undergo much more emotional trauma than those who have conceived normally. 
Couples who have failed to conceive naturally experience hope and despair as they begin to research, read and consult about IVF and visit gynecologists for the path forward. The following time frame of the test and awaiting test results is filled with hope and uncertainty.
Couples who have proceeded with their IVF cycle experience hope, anxiety and fear regarding its outcome, especially during the 14-day waiting period. The 14-day waiting period seems like an eternity to them as they have to cope with emotional highs and lows throughout this period. 
Couples who fail in their IVF cycle feel dejected, unlucky and helpless. At such times, they struggle to stay positive and do not wish to renew their efforts to conceive again. In addition, the cost of IVF treatment is another deciding factor that causes a dent in their finances, leading to more stress and tension.
However, to overcome this, Dr. Hrishikesh Pai suggests couples be aware of their mental status and reach out for suitable support. Apart from sharing their concerns and anxieties, they can seek counselling, practical moral support and medication after seeking a doctor's recommendation. Cognitive behaviour therapy is one such therapy that can help couples to accept their negative points and look forward with renewed hope. 
They should do activities they enjoy and relieve them from stress, which is spending time with their loved and supportive family members and friends. As far as possible, they should avoid negative feelings, thoughts and people. 
Instead of losing hope or feeling defeated, Dr. Hrishikesh Pai states that couples should be positive and look forward to realizing their dreams and becoming parents. Currently, IVF treatment has evolved as a highly accurate procedure with improved success rates, and hence, they should keep trying and staying hopeful.
Budget IVF & Fertility Centre is a reputable gynaecology facility that offers top-notch diagnostics and treatments to women. Their treatment options are affordable and cater to various gynaecological disorders such as endometriosis, pelvic pain, vulval disorders, recurrent miscarriage, menopause, early pregnancy, cysts, fibroids, menstruation issues, infertility, and more.
The team of some of the best gynaecologists in Mumbai, including Dr. Hrishikesh Pai, Dr. Rishma Dhillon Pai, and Dr. Rohan Palshetkar are always available to address any questions or concerns and deliver the best possible care. They are committed to providing patients with personalized and sensitive care throughout their treatment journey.
Patients can reach Budget Fertility Centre on 3rd Floor, Pearl Centre, Senapati Bapat Marg, Kasaravadi, Dadar, Mumbai, Maharashtra 400028 or call on 9871717305
 
Last Updated Apr 21, 2023, 8:54 AM IST