India's AI Journey: Ethics, Prospects, and Beyond
The summit focuses on artificial intelligence, digital public infrastructure, critical and emerging technology, national security, and more.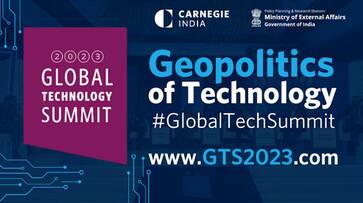 Vivek Abraham, Senior Director, External Strategy - India & South Asia, Salesforce
This article is part of a series examining the geopolitics of technology, the theme of Carnegie India's eighth Global Technology Summit (December 4–6, 2023), co-hosted with the Policy Planning and Research Division, Ministry of External Affairs, Government of India. 
The summit focuses on artificial intelligence, digital public infrastructure, critical and emerging technology, national security, and more.
Click here to find out more and register. Asianet News is the media partner.
As an amateur technologist, I have been fascinated by the pace at which technology has been changing. In 2022, hardly anyone had ever heard of generative artificial intelligence (Gen AI). In 2023, companies across the world are rapidly putting their Gen AI strategies in place, and governments are closely monitoring this technology for its potential risks and opportunities.
Whichever direction the trend of Gen AI takes, one thing is clear: artificial intelligence (AI) is no longer a "technology of the future" and has now permeated almost every aspect of our life. From the moment we pick up our phones in the morning to check messages and browse social media to genetic and pharmaceutical research and development to our e-commerce ecosystem, defense systems, and financial and credit systems to self-driving cars, AI has changed our lives permanently.
As a global technology leader, India is poised to drive the world AI economy, with the market for AI expected to reach $7.8 billion by 2025 in the country, according to the India Brand Equity Foundation.
Ethical Considerations of Artificial Intelligence
While AI continues to modify and transform our world, it is important to ensure that ethical considerations are central in the development process to prevent harm. AI model-builders and consumers should focus on building trustworthy technology, emphasizing accountability, transparency, and fairness. These considerations could be summed up in three pillars that are integral to fostering responsible AI.
1. Cultivating an Ethics-by-Design mindset: Developing ethical AI requires embedding a culture of critical thinking within organizations. It's unrealistic to rely on a single group to address ethical concerns. Instead, adopting the approach of Ethics by Design means drawing insights from diverse perspectives, spanning cultures, backgrounds, genders, and expertise areas. Creating an environment open to a broad array of voices helps identify and rectify potential biases and blind spots. Training programs that emphasize ethics empower the workforce to recognize and mitigate ethical risks.
2. Applying best practices through transparency: Developing AI in a controlled lab environment makes it difficult to predict its real-world performance. Accountability questions must be addressed throughout the product development process. Transparency—sharing information with the right stakeholders to gain diverse perspectives—is critical to the development of responsible AI. This could involve evaluating data quality and ensuring effective bias elimination from training data. Collaborating with external experts, including academics, industry professionals, and government leaders, enhances outcomes. Providing maximum transparency regarding the AI model's construction to ensure that users understand the protective measures in place can effectively minimize bias.
3. Empowering customers to make ethical choices: Organizations should provide customers and users with tools to use technology safely and responsibly. For instance, allowing users to label certain information fields as "sensitive" is crucial. This is particularly relevant due to regulatory restrictions on data related to age, race, or gender, as these data fields can introduce bias into AI models. Identifying data closely linked to these fields, known as "proxy variables," allows the system to flag potentially problematic or biased data fields to administrators. With proper guidance and training, customers gain a better understanding of their decisions regarding the exclusion of sensitive fields and proxies from AI models.
Artificial Intelligence in India
India's AI journey is a tale of rapid progress. It is also one of the first countries in the world to develop a draft of the National AI Ethics Principles document. With an emphasis on accountability, openness, justice, and safety, this document offers guidelines for the creation and application of AI in the country. The future prospects of AI in India are not only promising but also transformative. 
Here are some of the key areas where AI is set to make a substantial impact.
 
1. Economic growth: AI is all set to make a big impact on India's economy. In February 2023, Salesforce conducted its Digital Skills Survey, which had a sample size of 11,035 working adults (above eighteen years of age) from eleven countries. The study found that 93 percent of Indian workers are excited about using AI in their jobs, and an equal percentage of respondents highlighted that they are aware of how it will affect their work. This change in attitude is expected to benefit sectors like agriculture, healthcare, manufacturing, and retail—making them more efficient and innovative—thereby boosting the economy.
 
2. Job creation: Despite concerns about job displacement, AI will generate new opportunities by automating routine tasks, allowing the workforce to concentrate on creative and strategic roles. The Salesforce and IDC report clearly projects 11.6 million jobs by 2028 in the Salesforce ecosystem.
 
3. Socioeconomic inclusion: AI can bridge socioeconomic gaps, particularly in areas with limited access to healthcare. AI-based diagnostic tools empower individuals to capture health data and consult doctors remotely, ensuring better healthcare access.
 
4. Smart governance: AI enhances governance, optimizing traffic management, public safety, and pollution control. Intelligent e-governance platforms tailored to local communities improve services.
The Road Ahead     
The advancement of AI has shown tremendous promise and transformative potential. The way forward is to create AI ethically and responsibly, with careful regulation as a guide. Regulation can define precise parameters, moral standards, and responsibilities for AI developers and users. It aids in reducing potential hazards like privacy invasions, prejudice, or false information generated by AI. 
At the same time, India will need to invest in education and upskilling to harness AI's potential. To achieve this, the country could leverage initiatives like Skill India. It provides training, free online courses, and programs to close AI skills gaps, which is vital for successful AI adoption.
Overall, the intersection of innovation and ethics pertaining to AI needs to be explored carefully, making sure that the technology serves humanity's best interests and follows the values of equality, transparency, and accountability.
About the Author
Vivek Abraham is the regional director of external strategy, India and South Asia, for Salesforce. In his current capacity, Vivek is responsible for strategic initiatives with key stakeholders, including the government and industry, and is part of the India leadership team. https://www.salesforce.com/in/blog/author/vivek-abraham/.
1 The countries surveyed are Australia, France, Germany, Italy, the Netherlands, Singapore, Spain, the UK, the United States, India, and Sweden. For more details, see: https://www.salesforce.com/news/stories/digital-skills-based-experience/.
Disclaimer: This is a featured content  
Last Updated Nov 13, 2023, 2:28 PM IST