Ajeenkya DY Patil University – An Ideal Choice in the Heart of Pune
With over 30 programs and 76 specializations, ADYPU offers a comprehensive educational experience on a sprawling 100-acre campus. One of the key pillars of ADYPU is global immersion.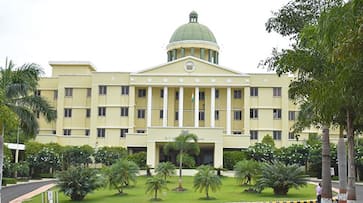 Nestled in the heart of Pune, often hailed as the 'Oxford of the East,' Ajeenkya DY Patil University (ADYPU) stands as a pinnacle of academic brilliance and innovation. It is a powerhouse of diverse programs spanning Business, Engineering, Technology, Design, Law, and Liberal Arts. The constant commitment to providing specialized undergraduate and master's programs is key to quality education and holistic development.
With over 30 programs and 76 specializations, ADYPU offers a comprehensive educational experience on a sprawling 100-acre campus.
One of the key pillars of ADYPU is global immersion. Through connections to 17 partner universities worldwide, students have the opportunity to gain international exposure, enhancing their academic knowledge and nurturing a global perspective.
ADYPU's pedagogical approach is a fusion of theory and practice, producing graduates who are not only well-versed in their chosen fields but also adept problem solvers in real-world scenarios. The innovative curriculum of ADYPU is also aligned with international standards. It encompasses the Innovation Factory and T-Shaped curriculum approaches that encourage an entrepreneurial mindset and a learning philosophy focused on students.
Students acquire the essential skills needed to become influential leaders in their respective fields through a blend of workshops, events, activities, and specialized courses. The university offers a vibrant array of extra and co-curricular activities that encourage personal, academic, and professional growth. The placement department regularly organizes corporate visits, company presentations, and recruitment events.
Ajeenkya DY Patil University was recognized as one of India's top 10 universities to watch in 2021 by Education Stalwarts and received the 'Best Technology Innovation Award' from the Indian Express Group for its Competency-based Transcript System. It stands tall as a paragon of modern education in pursuing excellence, innovation, and holistic development. The students of ADYPU aren't just educated; they're empowered to shape a future defined by their unique talents and aspirations. 
Join us at Ajeenkya DY Patil University, located at Lohegaon, Pune, where the you can start journey to success.
ADYPU comprises of 6 different Schools offering multiple programs.
School of Engineering.
The School of Engineering is dedicated to shaping the engineers of the future, equipping them with the skills and knowledge needed to excel in a rapidly evolving world. Our innovative curriculum is centered on design thinking and problem-solving, fostering entrepreneurship and innovation to address current global challenges.
School of Law
The School of Law at ADYPU is a premier institution, offering undergraduate and postgraduate programs, including the coveted Bachelor of Laws and Master of Laws degrees. It seamlessly blends academic rigor with practical exposure, preparing students comprehensively for the dynamic legal landscape.
School of Management 
The School of Management at Ajeenkya DY Patil University is a pioneering institution that cultivates innovative and adaptable leaders. Our focus is on providing a holistic education that merges classroom learning with real-world exposure. Our students engage in field activities, projects, conferences, and case studies that challenge them to put theory into practice. Upon graduation, our students unlock a world of outstanding career opportunities across a spectrum of functions and industries.
School of Liberal Arts
The School of Liberal Arts at Ajeenkya D Y Patil University offers a flexible and diverse program that prepares students for the 21st-century workforce. With a focus on multidisciplinary thinking, collaboration, and critical thinking, our program nurtures skills that extend far beyond the classroom. In today's rapidly changing world, employers are increasingly looking for individuals with the ability to think creatively and solve complex problems.
School of Design
Ajeenkya DY Patil University's School of Design offers a dynamic and immersive learning experience that empowers students to explore the boundless realm of design. The school embraces a holistic approach that extends beyond aesthetics, recognizing that design is both a process and an outcome, a means of transforming ideas into tangible solutions that enhance the world around us.
School of Hotel Management
The School of Hotel Management at Ajeenkya DY Patil University offers undergraduate and postgraduate programs in Hospitality and Tourism, preparing students for success in this ever-growing industry.
In a dynamic and competitive landscape, the demand for skilled hospitality professionals is on the rise. Our school equips students with the knowledge and entrepreneurial skills essential to thrive in various sectors of hospitality and service businesses.
Join us at ADYPU, where your unique talents and aspirations are nurtured to define the future.
Your journey to success starts at Ajeenkya DY Patil University. Enroll today and unlock a world of opportunities!
 For general information and enquiries contact: info@adypu.edu.in and visit their website: www.adypu.edu.in
Last Updated Sep 28, 2023, 5:10 PM IST