Shiv Sena warns Karachi Sweets: 'Hate this name, change it'
A video of Shiv Sena leader Nitin Nandgaonkar has been doing the rounds where he is heard threatening the owner of popular sweet shop Karachi Sweets. In the video, the owner can be seen trying to explain that the shop has nothing to do with Karachi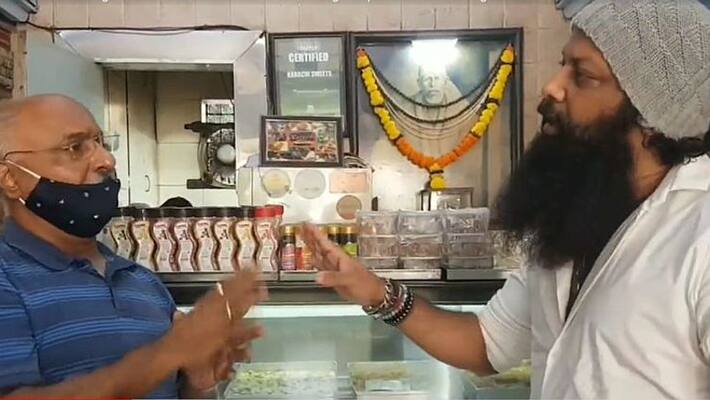 Shiv Sena has an issue with popular sweet shop Karachi Sweets -- It doesn't "like the name Karachi."
The owner of 'Karachi Sweets' shop in Mumbai's Bandra West locality has been told by Shiv Sena leader Nitin Nandgaokar to omit the word 'Karachi' from its name. 
The word 'Karachi' on the signboard as now been covered with newspaper. 
A video of Shiv Sena leader Nitin Nandgaonkar has been doing the rounds where he is heard threatening the shop owner.
In the video, Nandgaonkar says: "You came from Karachi but now you are in Mumbai, right? Now, one thing is clear, I do not care about which religion you follow -- whether you are Hindu, Muslim or anything but in Mumbai, do not use the name Karachi." 
"This name (Karachi) means you came from Pakistan. Your ancestors were from Karachi and after partition, you came here. You are welcome here to do business but please do not use this name," he said.
"
"We have a strong problem with Karachi. On Bhai Dooj, our soldiers were killed by Pakistan. Please cancel the name which is registered too. I hate this name Karachi because that is a country of terrorists. Go to BMC and get it changed. Change it to your name or name the store after your ancestors. It is my request and you will have to do it. We will give you time," he added. 
The Sena action evokes sharp response on social media.
 
Last Updated Nov 19, 2020, 2:00 PM IST