Lingayat Jagadguru Mate Mahadevi dies at age 74
Mate Mahadevi is the first female Jagadguru of Lingayats. She was suffering from multi-organ failure and was being treated at Manipal Hospital since March 8.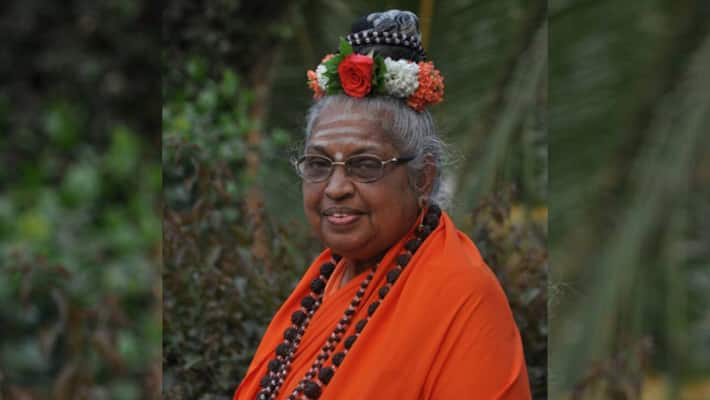 Bengaluru: First female Jagadguru of Lingayats, Mate Mahadevi breathed her last on March 14 at Manipal Hospital in Bengaluru. She was 74 and was on life support.
Mate Mahadevi was admitted to Manipal Hospital on March 8, after she suffered a lung infection. For a year, Mate Mahadevi had also been suffering from kidney failure and underwent dialysis.
Mahadevi had spearheaded the campaign for a separate religion for the Lingayats. "I will not rest till Lingayat is declared a separate religion," she had said.
Mahadevi completed BSc and also held a MA degree. Born on March 13, 1946, Mahadevi was drawn towards writing after she was inspired by Vachanas of the 12th century poetess, social reformer Akka Mahadevi.
Mahadevi has written over 20 books on Vachanas and teachings on Basavanna. She was given Deeksha into the religious institute by Swami Lingananda in 1966.
Mahadevi also started an educational institute for girls called Jaganmata Akka Mahadevi Ashrama in Dharwad, which aimed at training and empowering women.
Here is the official statement from Manipal Hospital: 

We regret to inform that 74 years old Dr. Jagadguru Mate Mahadevi was critically ill and  admitted on 08/03/2019 at Manipal Hospitals has passed away at 4.45 p.m. today due to cardiac arrest. She had a prolonged renal illness and was on advanced life support system  Since admission, she required multiple organ and life supports including ventilation, BP support, and dialysis. Her condition was extremely critical and she was receiving broad-spectrum antibiotics for sepsis. The ICU, nephrology and pulmonology teams were providing the best of care to her round the clock. Our deepest condolences to the entire family and the devotees on her sad demise.

Dr H Sudarshan Ballal, Chairman, Manipal Hospitals
Last Updated Mar 14, 2019, 6:01 PM IST