Chhath Puja 2023: City-wise timings of Sandhya Arghya in Delhi, Patna Kolkata and other places
Chhath Puja, a four-day festival in India and Nepal, celebrates the sun god. Devotees fast, expressing gratitude for blessings. The third day, Sandhya Arghya, involves sunset prayers near water bodies. Rituals include offerings of thekua and fruits. The festival showcases cultural and spiritual richness, emphasizing reverence for cosmic forces and the cyclical nature of life. In 2023, the celebration began with fervor and grandeur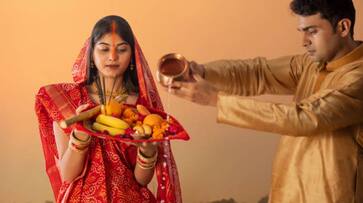 Chhath Puja, a significant and grand festival celebrated with fervor across the country, particularly in states like Bihar, Uttar Pradesh, Madhya Pradesh, Jharkhand, West Bengal, and certain regions of Nepal, is currently underway. This annual celebration, marked by elaborate rituals and prayers, is dedicated to the worship of the sun god. The festival spans four days, commencing on November 17 and concluding on November 20.
On the initial day of Chhath Puja, devotees observe Nahaye Khaye, followed by Lohanda and Kharna on the second day. The third day is dedicated to the Sandhya Arghya, where offerings are made to the setting sun. The concluding day involves devotees presenting their Usha Arghya to the rising sun.
Chhath Puja is a time when adherents undertake a fast and express gratitude to Chhathi Maaiya and Surya Dev for the abundant blessings bestowed upon them, seeking prosperity, wealth, and longevity.
As we delve into the significance of Sandhya Arghya, observed on the third day, it is essential to understand the rituals associated with this phase of the festival. Devotees gather by water bodies, such as rivers, ponds, or lakes, during the evening to perform the sacred rituals.
The Sandhya Arghya ceremony involves the offering of prayers and offerings to the sun as it gracefully sets. This ritual signifies the gratitude and reverence that devotees hold for the sun god. The setting sun is considered a symbol of energy, life, and divinity, making this ceremony a deeply spiritual and symbolic experience.
Devotees meticulously follow a series of rituals during Sandhya Arghya. They prepare a special prasad, consisting of thekua (a traditional wheat-based sweet), fruits, and sugarcane, which is offered to the sun god. The atmosphere is charged with devotional hymns and mantras, creating a serene ambiance filled with spiritual energy.
The Sandhya Arghya is not merely a ritualistic act but a heartfelt expression of gratitude and devotion. It symbolizes the cyclical nature of life, emphasizing the importance of acknowledging and respecting the cosmic forces that sustain existence.
In 2023, Chhath Puja commenced with unparalleled enthusiasm and grandeur, underscoring the cultural and spiritual significance that this festival holds for millions of people. As we partake in the festivities, let us immerse ourselves in the rich tapestry of traditions and rituals that make Chhath Puja a truly remarkable and cherished celebration.
On the morning of the third day of Chhath Puja, devotees prepare offerings. In the evening, they visit water bodies, standing waist-deep to offer prayers to the setting sun, presenting flowers, fruits, and sweets to Surya Dev. Here are the city-wise Sandhya Arghya timings for this year:
Delhi: 5:27 PM
Kolkata: 5:00 PM
Patna: 5:00 PM
Chandigarh: 5:25 PM
Kanpur: 5:28 PM
Prayagraj: 5:15 PM
Hyderabad: 5:40 PM
Bhopal: 5:35 PM
Bhagalpur: 4:54 PM
Lucknow: 4:52 PM
Gaya: 5:02 PM
Ranchi: 5:03 PM
Last Updated Nov 18, 2023, 7:30 AM IST