Guess these Malayalam film songs through their English translations
Test your knowledge of Malayalam film songs
We have given you a rough translation of some popular Malayalam songs
Let's have a fun guessing game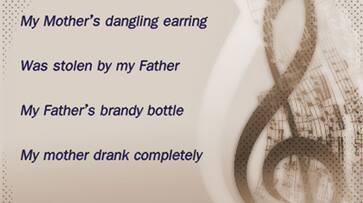 Let's see how strong your memory power is and your powers of observance. Music is something we all listen to daily but how many of us actually listen. Here's a little test to find out. Check if you still know your Malayalam songs when they are translated into English.
Let's have some fun, what say?
P.S: The answers are given below...No peeping 
Answers
1. Jimmiki Kammal- Velipadinte Pusthakam
2.Nenjodu Cheruthu- Album Yuvh
3. Nokki Nokki Lyrics – Jomonte Suvisheshangal
4. Ee Mazha Megham - Om Shanthi Oshana
5. Anuraga Vilochananayi -Neelathamara
6. Malare (chorus) Premam
7. Enne Thallendammaava –Oru Vadakkan Selfie
8. Kaneer poovinde kavilil- Kireedam
9. Aayirumm Kannumayi - Thattathin Marayathu
10. Aaro Viral Meetti –Pranaya Varnangal
*The translations into English have been done loosely and we do not claim this to be the perfect literal translation. The article is a light-hearted read.
Last Updated Mar 31, 2022, 1:01 PM IST