Sherin Mathews update: Police arrest Keralite father after he surrenders, changes story [Video]
Wesley Mathews was arrested and charged with first-degree felony injury to a child after he changed his story about his adoptive daughter's disappearance
He had previously claimed that Sherin went missing after he sent her outside their home at around 3 am on October 7 as punishment for not drinking her milk
Meanwhile, Sherin's adoptive mother Sini appeared before a Dallas county judge on Monday to attempt to regain custody of her 4-year-old biological daughter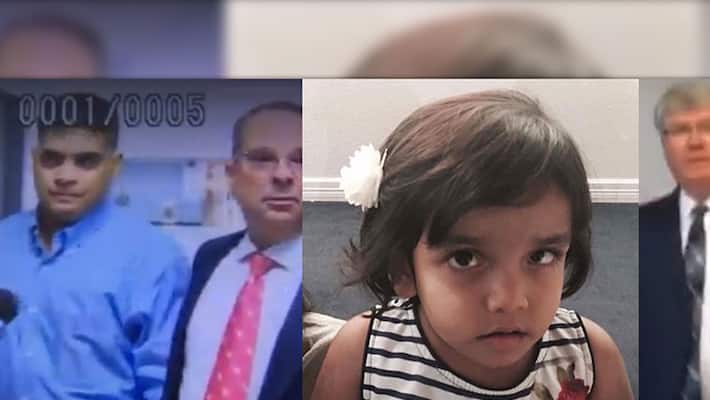 The Keralite foster father of Sherin Mathews, the missing 3-year-old Indian girl in the US, was arrested on Tuesday, a day after the body of a small child was found in a culvert less than a km from the family's home.
Wesley Mathews was arrested and charged with first-degree felony injury to a child after he changed his story about his adoptive daughter Sherin's disappearance, according to the police in Richardson, Texas. He had previously claimed that Sherin went missing after he sent her outside their home at around 3 am on October 7 as punishment for not drinking her milk.
Sherin Mathews missing: Police find a child's body near home, await confirmation
The 37-year-old, who hails from Kochi, provided "an alternate statement of events" about Sherin's disappearance to detectives after the body of a small child was found, the police said, without providing any additional details.
"This afternoon, Wesley Mathews was arrested and charged with Injury to a Child (TPC 22.04), a first-degree felony punishable by life or from five to 99 years in prison. He voluntarily arrived at the Richardson Police Station with his attorney and asked to speak with detectives. He provided an alternate statement of events from those which he had given previously, regarding the disappearance of Sherin," the police statement read.
Sherin Mathews missing: FBI seizes washing machine from Keralite parents' home [Video]
Wesley has now charged with first-degree felony injury to a child, a crime punishable by up to life imprisonment. The bond has been set at $1 million for him, Richardson police Sgt Kevin Perlich said.
Sherin, who has developmental issues and limited verbal communication skills, was adopted by Wesley and his wife Sini Mathews from an orphanage in Nalanda, Bihar around two years ago.
Kerala man, who sent his 3-year-old girl out at 3 am as punishment, did laundry before reporting her missing
Meanwhile, Sherin's adoptive mother Sini appeared before a Dallas county judge on Monday to attempt to regain custody of her 4-year-old biological daughter, who had been removed from the home by Child Protection Services (CPS) after Sherin was reported missing.
The judge postponed the custody hearing to allow Wesley to hire an attorney, and the girl is to remain in foster care for at least three more weeks.
The Richardson police had announced on Sunday night that they discovered the remains of a small child in a tunnel beneath a road, expressing apprehension that it was "most likely" that of Sherin. They, however, did not confirm the identity.
The body was discovered in a culvert beneath a road, about one km from the Mathews' residence, with the help of search dogs. The police have not released any details about how the child died. Investigators are awaiting confirmation that the body of a child found in a culvert is that of the missing girl.
Sini does not face any charges at the moment. She was in the house at the time but was reportedly asleep and unaware of what her husband was doing, the police had said earlier.
Last Updated Mar 31, 2018, 7:06 PM IST