Athira to Ayesha, and back: Who is converting Kerala's young girls?
The conversion and marriage of Akhila Ashokan aka Hadiya was the first case in which court interfered
Athira Nambiar converted to Islam but returned to Hinduism stating that her friends misled her
It is alarming that most conversions are carried out by institutions that operates without government recognition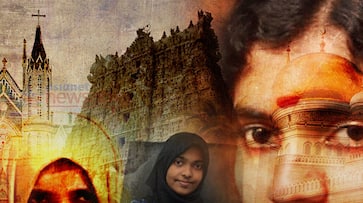 Religious conversions are not new to Kerala which has always embraced the Right to Religion guaranteed by the Constitution under Article 25. However, conversions became a contentious issue in Kerala after the High Court and Supreme Court interfered with the rights of individuals by giving credence to the fears of love jihad and forced conversions. 
The first incident that triggered an outrage in the state was the , a Hindu girl from Kottayam.  The second case is of Athira Nambiar from Kasargod, and adopted the name Ayesha, but after one-and-a-half months . 
Religious conversion is not considered illegal in Kerala. It is perhaps one of the few states in the country that has given official recognition to conversions. Kerala also has recognised conversions centres run by Hindus and Muslims.
However, the point to be noted here is concerning the fact that other than recognised centres several organisations are performing the activity and that too without a licence. Neither Athira nor Akhila got converted at the two organisations, Maunathul Islam Association in Ponnani and Therbiyathul Islam Sabha in Kozhikode, that are recognised to help people practice Islam. 
Akhila, 24, converted to Islam while she was pursuing BHMS at Sivraj Homoeopathic Medical College in Salem and adopted the name Hadiya in July 2016 and got married to a Muslim youth. 
Her father approached Kerala High Court raising doubts that the youth, to whom the girl got married, is suspected to have links with Islamic State (ISIS) and that his daughter was forcefully converted to Islam. Considering the suspicions raised by the father, the and sent the girl to her parents home in May 2017. When the husband approached Supreme Court questioning the decision of High Court, the into the possibility of love jihad and terror conspiracy. 
In the second case, a 23-year-old student from Kasargod had left home and returned home after embracing Islam. She changed her name from Athira to Ayesha and said that the conversion was at her own free will. The High Court asked the police to ensure that radical groups involved in anti-social activities should not be able to exert any influence on her. The girl later returned to her religion stating that her friends misled her and converted her to Islam. 
Other than Christian churches, which can issue certificates of conversions, there are five organisations that can convert people to Hinduism and two institutions that posses official recognition for conversion to Islam. 
Also read: 
The most famous among them are Arya Samaj Mandir, established in 1921 and Therbiyathul Islam Sabha which dates back to 1936. Both these organisations are located in Kozhikode and follow long-established norms for performing the act. Those who approach the Arya Samaj will have to produce their identity card, school certificate and self-attested affidavit that they are converting of their own free will. Arya Samaj authorities state that most people approach them for marriage. 
Therbiyathul Islam Sabha insists that those who approach them for conversions should attend a 60-day course to learn the religious practices. They have a campus that can accommodate 50 students. The institute also insists that the person approach them along with their parents. 
However, the newer religious outfits like Markazul Hidaya Satya Sarani in Malappuram, are more lenient towards those who approach them. Akhila got admitted to this organisation after she was rejected by the Therbiyathul Islam Sabha. The institution is run by the Popular Front of India, which was founded by some persons who were members of Students Islamic Movement of India, an organisation banned under the Unlawful Activities (Prevention) Act. The only condition laid down by Satya Sarani for giving admission is that the person should be an Indian citizen who can understand Malayalam and should come with a notary signed an affidavit that they are joining the institution on their own will. 
On the other side, Hindu organisations batting for 'Ghar Wapsi' or return to Hinduism is also on the rise. Athira was reconverted to Hinduism at an organisation called Arsha Vidya Samajam. The founders of the Samajam state that they 'consider it their duty to bring back converted Hindus back to their own religion'.
Read more: 
A police complaint was filed against the Samajam alleging torture and the after it was found that they were functioning without a licence.
The state government itself has agreed that as many as 7,713 persons converted to Islam in 2006-2012 as against 2,803 conversions to Hinduism. Meanwhile, the filed by NIA before the Supreme Court states that it is suspected that there has been an organised effort in the conversion of Hadiya. The NIA also found similarities between the cases of Hadiya and Athira.
What stands out in these cases is the reliance of people on such illegal centres which are stoking the already flaming communal fire in the state. Terms such as love jihad, ghar wapsi are being coined to justify each community's sentiments.
What is equally bothersome is that the political parties in Kerala are reluctant to interfere in the issue. Even though the issue has become a huge controversy, both the ruling and opposition are maintaining a dangerously stoic silence in the matter.
Last Updated Mar 31, 2022, 12:52 PM IST